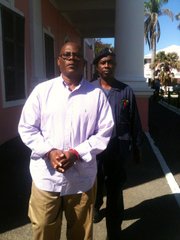 Accused murderer Prince Hepburn just had his murder trial adjourned again at the request of his attorney Murrio Ducille.
Justice Indra Charles said she would agree to Mr. Ducille's request because she is in an ongoing trial involving the theft of $1.3 million from Scotia Bank.
She told both Mr. Ducille and Crown prosecutor Franklyn Williams that there would be no further adjournments in this case and that both sides needed to "get their house in order" so that the trial can commence on March 18.
Mr. Hepburn is also standing trial for the April 2011 murder of Nellie Mae Brown.
See tomorrows Tribune for the full details.