By LAMECH JOHNSON
Tribune Staff Reporter
ljohnson@tribunemedia.net
THE judge set to preside over the highly-anticipated trial of Prince Hepburn - accused of killing his lover, a well known charity worker - yesterday adjourned the trial because of another matter before her court.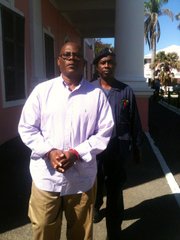 Justice Indra Charles said that there will be "no more adjournments" come March 18 and that both defending lawyer Murrio Ducille and public prosecution's deputy director Franklyn Williams needed to "get their house in order" so that 50-year-old contractor Prince Hepburn can stand trial for the April 2011 death of Nellie Mae Brown.
It is claimed that on April 6 or 7, 2011, Hepburn caused the death of Nellie Mae Brown, the 42-year-old former president of the Bahamas Heart Association.
She was found dead in the kitchen of an apartment on Bougainvillea Blvd, South Beach, with multiple stab wounds.
Hepburn, her partner at the time, was charged in connection with her death six days later when he was arraigned in the Magistrate's Court.
The trial date was set for August 2012 before Justice Charles. However, the matter had been stood down to October 1 because of the continuing John Bull Rolex Boutique theft case, which that started in May.
When October came, the John Bull trial had yet to be completed and so the Hepburn case was adjourned to yesterday.
However, $1.3 million theft trial is being heard before that court, which deputy DPP Williams said was the Crown's concern. Otherwise, he said, they were prepared to proceed.
Justice Charles acknowledged this in yesterday's proceedings, but noted that the matter was days away from being completed and Hepburn's trial could commence as early as Tuesday next week.
However, Mr Ducille said that the date would not be convenient because a defence witness of his was currently dealing with family issues in the US, which the witness considered a priority over the present court proceedings.
Mr Ducille requested at least two weeks to be able to get in touch with the returning witness concerning his role in Hepburn's defence to the murder charge.
"If he doesn't come in two weeks, we must wait on him? It's no use adjourning the case for two weeks and your witness will not be here," the judge said.
Mr Ducille said that his client was facing a "serious matter."
"There is no way I will wish to embark on this matter unless I have everything in place," he said.
Mr Ducille noted that often, in other courts, the prosecution is granted adjournments without much fuss from the judges, but the same is not being given to his client facing a serious offence.
Justice Charles responded that the case had been adjourned a number of times and all concerns and issues should have been dealt with already. However, she agreed to grant a final adjournment.
"The only reason is because I'm in an ongoing trial," she added.
After setting the trial for March 18, she called in the four police witnesses of various ranks to inform them that a final adjournment was given in the case and that they should return on that date.