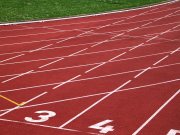 TRACK
ROAD RUNNERS/DIANNA
THOMPSON MEET
ROADRUNNERS Track & Field Club is scheduled to host its 7th Annual Diana Lynn Thompson Track & Field Classic on Saturday.
The event, which already has more than 700 athletes registered, is set to begin at 9am in the new Thomas A Robinson Stadium and provides competition in both track and field events from the U-7 to the Open divisions.
The club is looking forward to good weather and a successful event as athletes look to improve on their performances from recent competitions and attempt to make the qualifying standards for Carifta. The public is invited to come out and cheer for our Bahamian athletes.
CRICKET
DYNASTY EDGE LUCAYA
THE Dynasty Stars Cricket Club and the visiting Lucaya Cricket Club produced an exciting match at Haynes Oval on Sunday in which the hosts edged Lucaya in a nail-biting finish.
Lucaya won the toss and chose to bat first in the 30-over encounter. Their decision seemed to be the right one as they got off to a steady start and were comfortably placed at 84 runs for the loss of just two wickets after 15 overs.
Dynasty Stars were desperately looking for wickets which were hard to come by. However, with the introduction of spin bowlers, Lucaya's momentum was broken and the run rate began to dip. Even though Lucaya only lost five wickets in total, they failed to accelerate at the end of the innings to give them a total to be comfortable with.
The top scorer in Lucaya's 165 run total (for five wickets in 30 overs) was Marvin Johnson with 52 runs, while Horace Stuart chipped in with 29 runs. Anil Jagroo bagged two wickets while Brian Bascom, Jeremy Jesubatham and Howard Roye took a wicket each.
The target of 166 runs was expected to be a comfortable chase for Dynasty Stars. However, there was much excitement to follow as the game continued to ebb and flow. Lucaya's opening bowlers grabbed three quick wickets which put Dynasty Stars in a precarious position with the scoreboard reading 23 runs for the loss of three wickets at 5.1 overs.
Jonathan Barry and Renford Davson then stabilised the innings with a solid 48-run partnership. Barry continued to be steady in his batting but wickets then started falling regularly at the other end and Lucaya looked to be favourites as they had Dynasty Stars in trouble at 98 runs for the loss of seven wickets after 18 overs.
Young Jagroo then joined Barry for a 39 run partnership, and once that partnership was broken Dynasty Stars needed 28 runs off 21 balls with two wickets remaining. Yet another wicket fell in the penultimate over and the final pair was left to score eight runs in eight balls with the spectators on their feet.
Veteran Lee Melville finished off the inning with a six with just one ball to spare, sealing a thrilling victory for Dynasty Stars (171 runs for 9 wickets in 29.5 overs). It was Barry who anchored the batting for Dynasty Stars and was awarded the trophies for best batsman and man of the match for his masterful knock of 85 runs not out. Davson contributed 26 runs.
Keith Worrell won best bowler with three wickets for 27 runs in six overs. Stuart and John Dolphin captured two wickets each while Clive Roberts and Ivan Johnson took a wicket each.
The match was played in memory of the late Courtney Waddell and the Dynasty Stars proudly walked away with the memorial trophy. Saturday's match was washed out due to rain.
BASKETBALL
HOYTES/GENEVA
RUTHERFORD TOURNEY
The HOYTES (Helping Our Youths Thru Education and Sports) organisation's 2013 Geneva Rutherford annual girls basketball classic got underway at St George's Gym in Freeport, Grand Bahama, on Thursday.
It is anticipated that this extravaganza would once again meet its goal of character building in our young people while providing activity in the sport of basketball for the female student-athlete.
The classic, which is scheduled to run through Saturday, February 24, will be comprised of Junior and Open Divisions, split into two pools each with some 18 teams competing, representing 13 high schools from Abaco, Eleuthera, New Providence and, of course, the host Grand Bahama.
The format will consist of inter pool round robin play with the pool champions and runners-up moving on to the semifinals, with winners of those contests advancing to the finals, that is scheduled for 8pm Saturday.
A special feature of the tournament is that all teams will play a minimum of three games. It is hoped that this system will encourage additional activity for the female student-athlete. Subsequently, to end the classic on an upbeat note, all teams will be asked to play for seeding. For example, the third place teams will compete against each other for fifth and sixth place and the fourth place squads for seventh and eighth and so on.
Coach Gladston "Moon" McPhee, HOYTES founder and tournament coordinator, anticipates that the 2013 Geneva Rutherford will prove to be a very interesting and competitive tournament. He observes that it is unquestionably the "grand mother" of female tournaments.
Additionally, he says that with the assemblage of schools along with the level of talent from across the Bahamas, the event will lend credibility to the notion as the "nationals" for female secondary school basketball programmes.