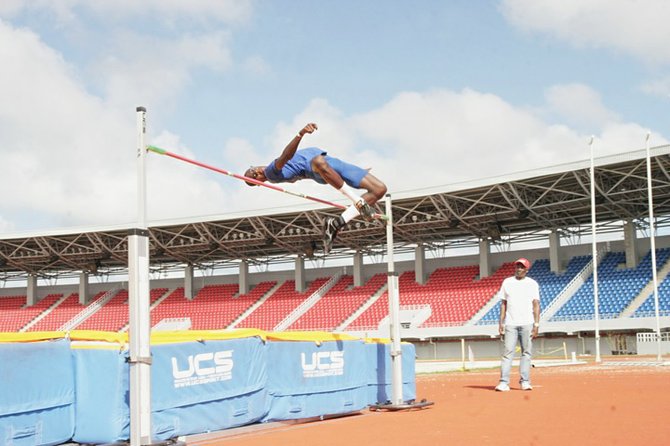 By BRENT STUBBS
Senior Sports Reporter
bstubbs@tribunemedia.net
With a chance to qualify for the BTC Carifta Games and the IAAF World Youth Championships, LaQuan Nairn has abandoned his chance to play basketball for the CR Walker Knights and is now concentrating on his high jump abilities in track and field.
Nairn, a double bronze medallist in the high and long jumps at the 2012 Games in Hamilton, Bermuda, moved up to the under-20 division where he qualified in one of the two events in the Road Runners Track and Field classic at the new Thomas A Robinson Track and Field Stadium on Saturday.
While he fell short of the long jump qualifying mark of 7.10 metres (23-feet, 31/2-inches) with his winning leap of 6.77m (22-21/2), Nairn posted a personal best of 2.10m (6-103/4) to win the high jump as well to surpass the qualifying mark of 2m (6-63/4).
"I just want to thank God for giving me the opportunity to come out here and perform to the best of my ability," said Nairn, who represented the Leap of Faith Track Club, headed by coach James Rolle. "The jumps went very good. I just had to keep driving and clear the bar with the arch."
After clearing the winning height, Nairn decided to go for 2.15m (7-1), but after he missed it when his back landed on the bar coming down, he decided to shut it down and avoid any injury before he competes in the Government Secondary Schools Sports Associations' Track and Field Championships this week.
"I decided not to play basketball this year because I wanted to concentrate on track more," said Nairn, who joined former CI Gibson standout Ryan Ingraham, who went on to win the gold at the IAAF World Junior Championships last year. "I love basketball, but there's some things that you have to sacrifice."
Nairn, who is expected to continue the tradition that Ingraham left behind, was among five other athletes who attained the qualifying standards, including Leap of Faith team-mate Blayre Fernander, leaving coach Rolle beaming with excitement.
"I go through what they need to do in practice and when they come out here to compete, they just do what they have to do," said Rolle, who noted that his job as a dolphin trainer has been difficult for him to attend the meets. "I told them when they come out here, they have to believe in themselves.
"I was really pleased with LaQuan because last year his best was just 6-2 and today he jumped 6-103/4, which means that we're doing something. He just has to have faith in his coach and believe in what he's doing. That's why my track club is named Leap of Faith. Faith lays in the beholder. That's what we believe in and that is what is carrying us through so far."
Fernander, following in the footsteps of Nairn, has qualified in the under-17 boys division with his winning leap of a personal best of 1.86m (6-1 1/4) as well, surpassing the mark of 1.83m (6-0), his previous PR. He attempted 1.090m (6-2 3/4), but failed on each of his three attempts.
"It felt good. I came out here and remember what my coach told me to do and I executed," said Fernander, a 15-year-old 10th grader at Aquinas College. "I was tired. I knew I could go higher, but fatigue started to set in. I just want to try and clear 1.90, go to Carifta and medal."
Although she didn't get the qualifying mark of 1.69m (5-61/3), Andriel Strachan came close with her winning PR leap of 1.66m (5-51/4) as she won the under-20 girls high jump over Denisha Bagot, her College of the Bahamas teammate, with her mark of 1.46m (4-91/2).
"The jumps was good. I was just going through the motions and making sure I cleared the bar properly," said the 18-year-old. "I attempted the Carifta qualifier, but I will need some more work to get that done. Hopefully I can get it at the Carifta trials when we should have some more competition."
In the under-17 girls division, Selene Thompson soared a PR of 1.60m (5-3) to match the qualifying mark, joining second place finisher Bria Sands as a double qualifier. Sands, who qualified in a previous meet, had to settle for second with 1.55m (5-1) on Saturday.
"Tomorrow (today), I'm going back to practice, so I'm going to try and jump higher than what I did today (Saturday)," Strachan said. "I really want to make it to the Carifta Games."
The problem is Thompson has the opportunity to qualify for both the track and swimming teams for Carifta. She said she will leave the selection process to the powers that be and whatever team she is selected to, she intends to go out and give it her best shot.
Coach Keith Parker, who has been working with Thompson, said he sure hopes she's on the Carifta track team.
"Selene's been working for three years towards this and she's improved every year," he said. "In practice, she's cleared the qualifying height three times, but this is the first time she's done in competition. If you saw her clearance, had the bar been 1.63m (5-41/4), she would have cleared it. So that's what she's aiming for. Her technique over the bar is superior to any other jumper."
Also qualifying on the field, but at the College of the Bahamas where the throwers had to compete because the infield at the new stadium was being resurfaced with grass, was Brashae Wood, who won the under-17 girls shot put with a heave of 12.22m (40-11/4), well above the QM of 12m (39-41/2). Wood also won the discus with 33.51m (109-11), which was off the QM of 34.50m (113-2).
The only qualifiers on the track Saturday came from Henri Delauze in a time of 49.30 seconds, which surpassed the under-17 boys 400 metres QT of 49.80 and Xvier Coakley, who cleared the 400m hurdles in the under-20 boys division in 54.63. The QT was 54.84.
In the under-17 boys' division, Kinard Rolle ran 22.16 to take the 200, which was just shy of the QT of 22.00, while Justin Pinder ran 2:00.81 in the 800, just short of the QT of 1:59.50.
In the under-17 girls' division, Dreshanae Rolle also came close in the 400 in 59.71. She needed to run 57.00.
Pedrya Seymour ran 1:092.26 to win the under-20 girls 400 hurdles, but she had to qualify in 1:02.00. Antonique Butler won the triple jump with a leap of 11.76m (38-7), which would have surpassed the QM of 11.75m (38-63/4), but it was wind-aided.
Gerrard Burrows won the under-20 boys discus with 47.07m (154-5), which was short of the QM of 47.40m (155-6) and the shot put with a winning heave of 14.51m (47-71/4), which was also shy of the QM of 16.20m (53-13/4).
The meet also saw the return of Crystal Strachan, winning the open women's 400 (58.57) and the 800 (2:20.29) and Kendera Bethell double up in the discus with 31.42m (103-1) and the shot put with 11.05m (36-3).
Other double winners were Otto Laing in the under-11 boys 100 (14.83) and 200 (30.87), Blaize Darling in the under-13 boys 100 (13.72) and 400 (1:02.61) and Johnathan Smith in the under-15 boys 100 (12.03) and 200 (24.94).