By LAMECH JOHNSON
Tribune Staff Reporter
ljohnson@tribunemedia.net
THE Haitians arrested in connection with the discovery of $780,000 worth of cocaine in Inagua nearly a week ago were arraigned in Magistrate's Court yesterday on multiple drug charges.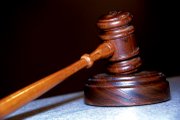 The six men, one of Port au Prince and the remaining of La Tortue, were all remanded to Her Majesty's Prison to await trial in December after they pleaded not guilty to conspiracy to possess dangerous drugs with intent to supply, conspiracy to import dangerous drugs, possession of dangerous drugs with intent to supply and importation of dangerous drugs.
Mercidieu Jean, 45, of Port au Prince, Lucner Guillaume, 36, Ronel François, 32, Aldy Dolce, 32, Delustin Samon, 41, and Franckel Joanel, 37, are accused of committing the crimes on February 20, while in the Bahamas.
On the day in question, police officers arrested six men on a Haitian freighter, the motor vessel "Trinity", after searching the vessel and discovering 49 kilos of suspected cocaine on board.
The six accused men, with the help of a Creole interpreter, were arraigned on the charges.
All pleaded not guilty and were told by the Deputy Chief Magistrate Carolita Bethell that the earliest trial date on the court's calendar was December 12.
She also told them that they would be denied bail because of the nature of the charges.
They were remanded to prison until completion of the trial.
In a separate drug arraignment, three Grand Bahamians found themselves before the deputy chief magistrate facing two drug charges in connection with a $45,000 marijuana seizure.
Navado Ramsey, 32, of Hunters, Michael Stapleton, 38, of Woods Rodger's Drive, and Jocelyn Evans, 47, also of Hunters were charged with conspiracy to possess dangerous drugs with intent to supply and possession dangerous drugs with intent to supply.
It is claimed that they conspired to possess drugs with intent to supply between February 19 and 20.
It is further claimed they were in possession of 40 pounds of Indian Hemp on the same dates in question.
All three accused pleaded not guilty to the charges and were remanded in custody until completion of trial, which is scheduled for October 3.
Ramsey and Evans were represented by lawyer Alex Dorsett. Troy Kellman appeared for Stapleton.