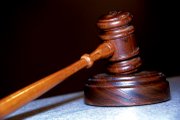 A MAN standing trial in Supreme Court in connection with the murder of a 66-year-old Long Island woman was acquitted of that charge but convicted on the lesser charge of manslaughter.
The verdict came down late Monday evening when the 12 member jury returned to the courtroom and told Justice Bernard Turner that Adrian Robinson was not guilty of the July 12, 2010 murder of taxi driver Veronica Knowles.
However, they unanimously believed he was guilty of the lesser charge of manslaughter, although he was also acquitted of armed robbery and stealing charges.
Robinson, who represented himself throughout trial, will return to court on Monday, March 4, for sentencing.
Knowles' decomposed body was found in bushes at the Crossing in Long Island.
During the trial, Robinson dismissed the alleged confession statement that the Crown produced, but did say that he choked Knowles.
He said Knowles, with whom he had sexual relations and also worked for, died suddenly when they were together at The Crossing on the day in question.
He said he placed her body about 11 feet off the road in bushes before driving her taxi back to her home. He denied taking money from a compartment in the vehicle.
Sandradee Gardiner prosecuted for the Crown.