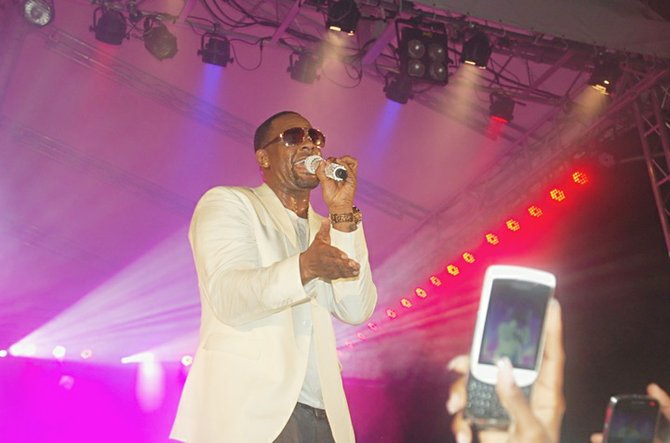 By ALESHA CADET
Tribune Features Reporter
acadet@tribunemedia.net
AN EMOTIONAL R Kelly moved the local crowd during his first concert in the Bahamas. Performing at the Seaside Pavilion, Arawak Cay on Saturday, the international Grammy award winning artist was visibly moved while singing "I Believe I can Fly" to a fanatic audience of Bahamians. He stood, watched and listened to the crowd as they sang the whole chorus back to him. Visibly moved and taking a minute to collect himself, he continued his selection and nailed it with arms wide open.
"I am here watching him live, and it sounds as if I am listening to his CD. He sounds so awesome live and not all singers can perform live," said Jessica Kemp, an attendee.
Another attendee, Christina Johnson, said: "He did just what I expected and that is put on a great show. Yes it was short but I enjoyed myself. Come back Kelz!"
The 46 year old R Kelly performed many of his greatest, including When a Woman Loves, Step In the Name of Love, Ignition and more.
During a pre-concert press conference, R Kelly said: "I've always wanted people to know that I am not just about sexual songs. With songs like The Storm is Over, Sign of a Victory, I Believe I Can Fly, I really want to inspire people with my music. You are never great until you can make someone else great so musically that is my mission."
As promised by the Fresh Entertainment promoters, the concert started and ended on time. It may have seemed like a short session for some, but patrons told Tribune Entertainment, R Kelly's performance was one they will not forget any time soon. Bahamian artists Sketch and pop princess Gia Miran opened for the international superstar.
R Kelly is one of many prolific R&B artists. The secret to his success, he said, is following his mother's advice. When he writes, he reports the news musically, enabling him to stay relevant and current generation after generation.
"I'm a mama's boy and I listen to my mother. When it comes to music, she is very musically inclined and she can really sing. She told me that if I continue to write life rather than write songs I will always be in the game. I decided that I was going to listen to that and I was going to write life," said R Kelly.
"I write from the heart, whatever is going on in my life or someone's life that I am touched by, I am going to write about it. I believe that is why my music continues to do what it do. It upgrades itself," he said.
Studio work has kept R Kelly away from the Bahamas, according to the singer, who said he stays in his music lab in Chicago, where he was born and raised.
"I am a really a home body when it comes to music. I have my studio in Chicago. I write a lot of songs as you guys know, and the only way for me to do that is to be in the studio to get it done," said R Kelly.
Studio time has caused him to sacrifice visiting places like Hawaii or "a beautiful place like the Bahamas," he said.

"It is just a lot of places I don't get to go, but I am glad I am here today. Hopefully you'll have me back after you see the show."
Promoters said R Kelly and his team left for the United States today. The singer came into the country last Friday.