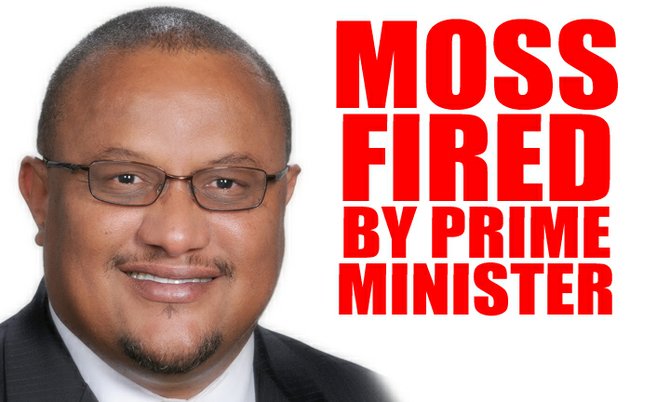 By LAMECH JOHNSON
and Paul Turnquest
Tribune Staff Reporters
MONTHS after appointing Gregory Moss chairman of the National Insurance Board, Prime Minister Perry Christie was forced to fire him yesterday when he refused to tender his resignation as ordered.
And on the heels of Mr Moss' termination, which became official at 7 o'clock last night when a statement was sent out by National Insurance Minister Shane Gibson, a new Chairman of NIB is expected to be announced shortly.
Before the termination took effect last night, sources close to the defiant MP for Marco City said he wanted "history to show" that he was "terminated" from his post by the Prime Minister for fighting corruption at NIB.
Prime Minister Christie, on Tuesday evening, ordered Mr Moss to tender his resignation or face being fired from his post after he criticised the Prime Minister on his Facebook page for thousands of Bahamian Facebook users to see.
In that detailed post, Mr Moss also contradicted the Prime Minister stating that he was still in possession of his NIB issued credit card, despite Mr Christie's assurances to the public that the MP was no longer in possession of it.
In his statement on Tuesday, Moss said: "My conscience is clear as is my resolution that should it ever be determined that my services as Chairman of NIB are no longer required, then it will be my honour to continue to serve the people of Marco City and the wider Bahamas from my seat in Parliament."
The Tribune was told last night that the Marco City parliamentarian was no longer NIB Chairman effective from 7pm. Minutes later, Minister Shane Gibson sent out a concise statement reaffirming what had been reported to The Tribune.
"It is announced for general information that the appointment of Gregory K. Moss, M.P. as Chairman of the National Insurance Board has been revoked with immediate effect," Mr Gibson's statement read.
"An announcement concerning the new Chairman of the National Insurance Board will be made very shortly."
The Tribune spoke with Opposition leader Dr Hubert Minnis about the termination and he reiterated that it was "something that should've happened long ago."
"I'm disappointed the prime minister waited until his hand was forced to make the decision. There were a number of irregularities concerning this whole situation that I brought up in parliament last November, the credit card and the medical bill," the FNM leader said.
When allegations and counter-accusations surrounding Mr Moss and Algernon Cargill surfaced late last year, the Prime Minister said he would order an investigation into the matter, which is still underway.
"There is no way that he (Moss) was supposed to remain in his position during that investigation," Dr Minnis said.
"I'm disappointed that the PM didn't have the guts to make an easy decision. If he had made the decision, he wouldn't be in the stew he is in now."
"During his last reign between 2002-2007, he was referred to as late again, so this late termination shouldn't really come as a surprise," the opposition leader said.
Mr Moss was contacted last night about his feelings and his thoughts on his termination.
"Good, but I have no comment on it," i all he would say.