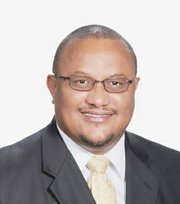 FORMER chairman of the National Insurance Board Gregory Moss is reportedly "relieved" to have been fired from his job, sources close to the Marco City MP claimed Friday.
Having been sacked by Prime Minister Perry Christie on Thursday night for failing to tender his resignation earlier in the day, Mr Moss was said to be concerned that he may have uncovered "too much" in his investigations into NIB.
Speaking on the condition of anonymity, the source said of Mr Moss: "He is a nation builder and his party sat by and did nothing while his name was being dragged in the mud. So he really had no option but to be fired because to be honest, anyone could have seen that was what this administration was planning all along."
Mr Moss, who has businesses and a law practice in Grand Bahama, has reportedly received a "tremendous boost" to his popularity since being axed by the Prime Minister.
"And you will recall that individuals have gone from being fired to becoming Prime Minister of this country," said the source.
In Mr Moss's refusal letter issued to Mr Christie on Thursday morning, the MP said he could not tender his resignation, as doing so would be tantamount to an "admission" that he had done something wrong in the discharge of his duties as chairman of NIB.
"Nonetheless, I recognise that the mere fact that you have requested my resignation renders untenable my continued service as chairman of the Board," Mr Moss wrote.
In Mr Christie's letter of dismissal, he said that Mr Moss's statements in the press showed that he had total disregard for the kind of "collegiality, mutual respect, and sense of collaborative endeavour" that is essential for the governance of the country.
"Quite apart for the matters concerning NIB, however, it is amply evident from your statement to the media that you are generally unhappy with a great many other things and that you feel completely out of step with the government, its direction, and certain of its policies. In these circumstances, I am sure you will agree that your retention of the chairmanship of the NIB has become untenable," Mr Christie said.
According to sources close to Mr Moss, the decision to have the MP removed from NIB had been "some time" in the making.
"The public should be asking itself, why would the PLP throw one of its own members under the bus? Why wouldn't the PLP capitalise on the information Mr Moss was exposing at NIB? That is a very scary thing," the source said.
Mr Moss remains the PLP's MP for Marco City, a position that he vowed in an earlier communication to continue to perform 'to the best of his abilities'.
Any speculation that he would be stepping down as a member of his party, or a member of the House of Assembly were dismissed by several persons close to Mr Moss.
SEE page 4 to read the letters that were exchanged between the PM and Mr Moss.