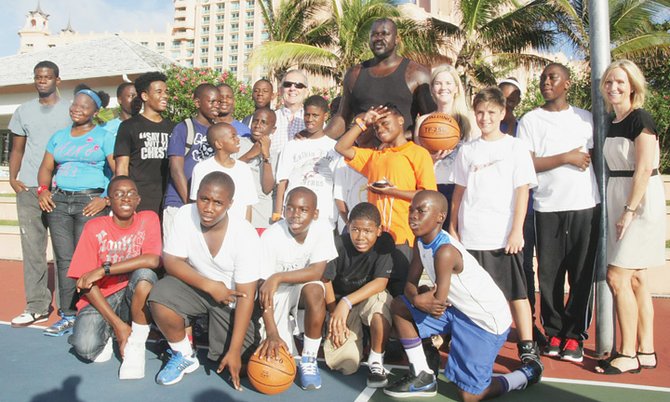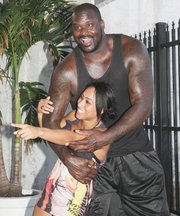 SPORTING superstar Shaquille O'Neal took to the basketball court in Atlantis to work with youngsters as part of his commitment to help the Paradise Children's Foundation.
The NBA champion signed basketballs and passed on tips to youngsters, while his girlfriend, Nicole "Hoopz" Alexander, also showed off her skills on the court.
His visit comes ahead of a gala fundraising event being staged by the foundation - and he arrived with donations for auction items for the gala.
The gala will be held on Friday, February 1, at Atlantis Resort, in support of children's charities throughout Nassau.
Called "Pandora's Box in Paradise", it will include a fantasy casino (open to Bahamians), a burlesque performance by Dita Von Teese, performances by the improvisational speed painter Dan Dunn, European strolling musicians the Gypsy Queens, plus an array of auction items and raffle prizes, including use of a 165ft private yacht in the Western Med, use of a G5 private jet for six hours, ten days' stay at the One & Only Global hotel (any combination), a $25,000 shopping spree at Versace/Milano, a $25,000 shopping spree at John Bull, two tickets to Alicia Keys in April at the Atlantis Resort, including a meet and greet and two nights in the Bridge Suite, among other items.
Every dollar raised from the event will go directly to the charities. The charities supported include Ranfurly Home, Elizabeth Estates, Bilney Lane and Emergency Children's Hostel.
For tickets, call the Atlantis Box office on 363-3000, or visit www.atlantis.com/promotions/pandorasbox.aspx.