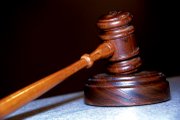 A WOMAN and her stepfather, who are accused of attempting to defraud Kelly's Home Centre of nearly $2,000 worth of baby items for a baby shower, took the witness stand in the Magistrate's Court.
Shandia Farrington, 25, of Denver Street, told the court she received cheques from her 59-year-old stepfather Errol Knowles on March 8, 2010 to help pay for baby items for her sister's shower.
After going to Kelly's and getting a quote for the selected items, she said she returned home and got the cheque from her stepfather.
Upon returning to Kelly's, she handed the cheque to a customer service representative, who then looked at the cheque and asked her for identification to clear the cheque.
Farrington said the "funny" actions of the employees at Kelly's made her nervous because their actions were geared towards the cheque which she signed as "Shandia Smith" and not Farrington.
She said she called Knowles and asked him if the cheques were good, to which he told her they were and not to worry about signing the cheque in the wrong name as she could easily correct that.
However, moments later, police were called to the scene and she and her 13-year-old sister were confronted by police.
She took police to her mother's house where they found Knowles who, according to Farrington, was doing some plumbing work for her mother.
Farrington and Knowles, 59, of Isabella Boulevard, are charged together with conspiracy to commit attempted fraud and attempted fraud by false pretences.
It is claimed that the two, on March 8, 2010, conspired to commit attempted fraud and with intent to defraud, attempted to obtain $1,926.80 worth of goods from Kelly's Home Centre Ltd.
Farrington is further charged with two counts of possession of forged documents and a single charge of uttering a forged document concerning two cheques that were found in her possession on the day in question.
In yesterday's proceedings, Farrington was cross-examined by Knowles' attorney Shervaugh Gay. The attorney asked her why she gave the store a different name.
"Everyone around me was acting funny. That's why I started acting funny," the woman said. "I didn't assume he would give me a bad cheque being that he was my stepfather."
He asked her what she did following the strange behaviour of the Kelly employee. She said she called her stepfather immediately.
ASP Ercell Dorsett also cross-examined Farrington and he too asked her why she signed the wrong name to the cheque. She again answered that it was because of the strange behaviour of the employees in the store.
The prosecutor suggested that she and her stepfather had conspired to commit the crime in question. "No sir," Farrington answered.
"And you knew the cheques were bad, it's why you wrote a fake name," the prosecutor suggested. "No sir," she again answered.
"Do you know Mr Knowles to work for Knights of Colombus?" the prosecutor asked.
"Not to my knowledge," Farrington answered.
"Yet he gave you these cheques?" the prosecutor asked, handing her the cheques in question. "I didn't know Mr Knowles was like that," Farrington answered.
In the court's afternoon session, Knowles took the witness stand. He told the court that before going to his step-daughter's house, he had met with his boss, "Mr Collie", who he had asked for assistance to help pay for the baby shower gifts upon an earlier request from Farrington. He said when he handed her an envelope given to him, he asked her to drop off a cheque to Robert's Furniture. "I never really looked at the cheques to see what they were," Knowles told the court.
He said around 3pm, possibly four, he heard Farrington come through the door shouting his name. He said she was followed by police officers who took them both into custody.
He told of police brutality, claiming that at the Wulff Road police station, officers put a bag over his head to the point where he was losing consciousness.
In cross-examination, ASP Dorsett recalled the earlier testimony of Knowles concerning a "Mr Knowles". "He gave you those cheques blank?" the prosecutor asked the defendant.
"I wouldn't' know if they were," Knowles answered.
The prosecutor asked Knowles if he recalled his step-daughter saying earlier that he gave her the cheques.
"Yes, I did," Knowles answer. "You remember telling the officer you gave three blank cheques?" the prosecutor asked. "I was under duress, I don't remember," Knowles answered.
The matter resumes on January 28 when the defendants will present their witnesses.