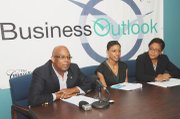 By NATARIO McKENZIE
Tribune Business Reporter
nmckenzie@tribunemedia.net
THE Bahamas has not seen any major changes to its real estate conveyancing laws for more than 100 years, an attorney said yesterday, stating that this jurisdiction was really playing "catch up" on the issue.
Sharlyn Smith, an attorney at Sharon Wilson and Company, who will address the issue of land security and conveyancing laws at the 22nd annual Bahamas Business Outlook (BBO) this Thursday, described the economic impact of these issues as "quite significant".
Giving a preview of her presentation, Mrs Smith said: "We will look at the fact that we have not had any comprehensive changes in the laws related to the transfer of real property in over 100 years.
"We have had laws relative to planning, most recently the Subdivision & Town Planning Act 2010. We have had laws relating to condominiums and timeshare, but we have not addressed the fundamental way in which we transfer real property rights in the Bahamas."
This, Mrs Smith said, has led to other issues such as overlapping claims and uncertainty regarding land ownership.
"We have many overlapping claims relating to land where you have several people claiming to own the same piece of land," she said.
"We have uncertainty regarding ownership of land, and the hot topic right now is what the Privy Council recently raised and the fact that land in the Bahamas is often stolen."
The London-based Privy Council recently reiterated concerns that the Bahamas' Quieting Titles Act can be used to steal land, saying it was "no accident" that it has heard numerous title disputes from this nation.
The highest court in the Bahamian judicial system flagged the issue in a December 2012 verdict on a title dispute involving more than 400 acres of land on Cat Island, a case whose participants included the wife of ex-Deputy Prime Minister, Brent Symonette.
Addressing the economic impact, Mrs Smith said: "I think the economic effect of it is quite significant. I think we can look at it in two ways. The first is that land is the basis of wealth for individuals or families. If they are not able to use, develop or mortgage their property because the title is not good and marketable, then that has an impact on the individual and the family.
"Persons seeking to develop properties on a large scale may often find that a hindrance to this is that the clear title to the land they are interested in cannot be obtained."
Mrs Smith said the urgency for the Bahamas to address real estate conveyancing cannot be overstated.
"Due to the fact that we have not addressed this issue in quite some time, a number of other issues have arisen, both socially and economically," she added.
"We are really playing catch up on this issue. We are one of the few countries, perhaps, in the entire Commonwealth that is using a system known as unregistered land.
"In the Cayman Islands  and Antigua, for instance, they changed their system in the early 1970's, and many other Caribbean countries have moved toward a system of registered land. We have to seriously have a look at this, its economic and social impact. Steps have been made but this is not an easy process or an overnight process."