By SANCHESKA BROWN
Tribune Staff Reporter
sbrown@tribunemedia.net
POLICE Commissioner Ellison Greenslade yesterday admitted that he has been "far too tolerant" with number houses. However, he said, it is a "very difficult" issue for the Royal Bahamas Police Force.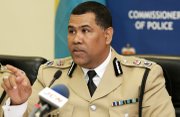 Speaking at a press conference, Commissioner Greenslade said that gambling has been around for decades. It has advanced and become computerised over the years, making it difficult for police to enforce the law. He said no matter what the results are after the January 28 referendum on gaming, the police force will have their work cut out for them.
"Whether people say 'no' or whether people say 'yes', the reality is whatever happens we are going to have to look at how it is managed and how it is policed.
"We have our work cut out for us. If it remains illegal, then I have to go
after it and there is a lot of things to go after. If it is legal, it has to be regulated and again we have to ensure the regulations are followed," he said.
"The laws have to be enforced and we have to be mindful of it and render the necessary support. There is no way to side step it, it is a very difficult issue because as we speak it is illegal on the books in the Bahamas, it is against the law. But it is so widespread it is almost ubiquitous to the extent that it is now computer based and you can have a computer in your bedroom at home and you could be a church going person, you could be a police officer, an attorney-at-law and the reality is that you could play your game from anywhere. You have to be real, the money can be deposited to your bank account so you don't have to go anywhere to collect nothing or you can have someone collect it for you. It's a real issue and it is not going away."
Mr Greenslade said he is obligated to follow the law, but admitted that he had been tolerant with number houses. While also admitting that he does not play numbers, the Commissioner said he would not say that some police officer are not gambling.
"I am not going to be drawn into the debate around it," he said, "except to say I cannot tell a lie to the Bahmian people, for us as an organization it is a real issue. Today it is illegal on the books and we have an obligation to enforce the law. I have been very, very patient for a long time and I believe by the end of January I will be a bit more impatient, but I have been far too tolerant.
"I would be telling a lie and I would not be living in the real world, if I allege that police officers are not playing numbers.  I do not play numbers. But the police force is listening and watching with interest and we are going to be guided in the proper way....we are not turning a blind eye, but it is a difficult issue for the country and there are some people who are going to assume that we all live in an Utopian society, we don't. We live in a society where a lot of things have been allowed to slip for a lot of years."
Prime Minister Perry Chrisite in an earlier interview said the government will abide by the result of the referendum – be it "yes" or "no" – on the question of both web shop gaming and a national lottery.