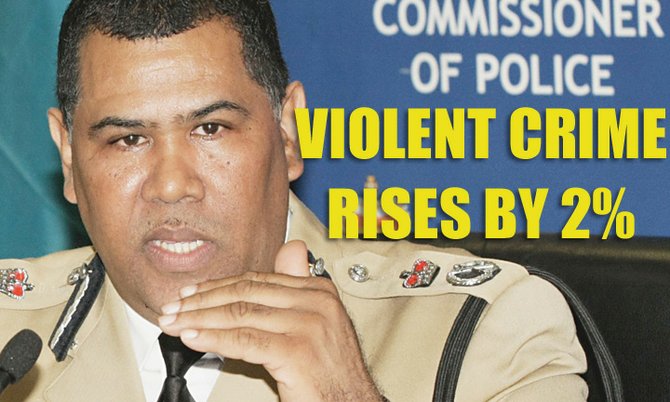 By SANCHESKA BROWN
Tribune Staff Reporter
sbrown@tribunemedia.net
DESPITE overall crime statistics being down by 5 per cent in 2012 compared to 2011, police say serious crimes or crimes against persons increased by 2 per cent during the same time period.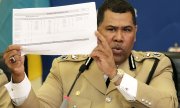 According to statistics released by police, murder decreased by 13 per cent in 2012, from 127 to 111, manslaughter remained unchanged, rape and attempted rape decreased by 9 per cent and 57 per cent respectively and robbery and attempted robbery decreased by 2 per cent and 28 per cent.
However, attempted murder increased by 58 per cent from 12 in 2011 to 19 in 2012 and armed robbery increased by 10 per cent from 998 to 1099 during the same time period. Commissioner of Police Ellison Greenslade said 83 persons were charged  for murders committed in 2012 and police have solved 82 per cent of murders.
Overall crimes against property decreased by 6 per cent.
Commissioner Greenslade said this decrease was influenced by decreases in burglary, housebreaking, stealing, and stealing from vehicles which showed decreases of 9 per cent, 11 per cent, 2 per cent and 8 per cent respectively.
Police also removed 480 illegal weapons off the streets and 6,516 rounds of ammunition.
There were 19 major cocaine seizures in 2012, 14 of which occurred at the Lynden Pindling International Airport, two were at Docks in New Providence and two in the Family Islands and one in Grand Bahama.
These seizures resulted in 568.75lbs of cocaine being recovered with an estimated street value of $8,531,250.
There were 16 major marijuana seizures with an estimated street value of $5,394,860.
Police also seized $281,661 believed to be derived from criminal enterprise, 1,023 persons were arrested for drug related offences. Of these 937 were Bahamians; 838 males, 68 females, 27 juvenile males and four juvenile females.
Twenty-three Haitians, 23 Americans, 18 Jamaicans, 7 Bolivians, 3 Turkish and 12 other nationals were arrested. A total of 598 drug cases were placed before the courts.