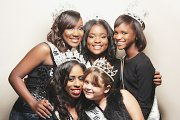 By ALESHA CADET
Tribune Features Reporter
acadet@tribunemedia.net
PAGEANT season will be here before you know it, and the Bahamas Galaxy Pageant organisation is wasting no time in putting together their early registration list.
Seeking contestants from ages six to twenty eight, women and young ladies are asked to register for one of the five divisional titles; Miss, Miss Teen, Jr Miss, Miss Pre-Teen and Little Miss.
Pageant Director, Andrea Knott said these women would have an incredible time learning choreography, runway, model stance, attending a workshop and seminar; grooming, leadership skills, etiquette, language diction, field trips, self defence, health and nutrition as well as enjoying the fun filled Bahamas Galaxy pyjama and pizza party.
"The committee encourages all interested ladies to be a part of this prestigious pageant where each contestant is afforded the opportunity to grow and advance her personal and career goals while being a role model in the community," said Ms Knott.
The Bahamas Galaxy Pageant organisation held its first Annual Competition in 2010, with two divisions, Miss and Miss
Teen Bahamas Galaxy. For the next year, there was a growing need for other age categories. With this in mind, the pageant then progressed in 2012 to include three more divisions, Little Miss, Miss Pre-Teen and Jr Miss Bahamas Galaxy.
 Speaking about the benefits of winning any of the titles, Ms Knott said: "They will have fashion photo-shoots, travel opportunities, one year of Spanish lessons, one year of karate lessons, training in modeling and runway, making numerous appearances at local and national events. Bahamas Galaxy Pageants is focused on providing development opportunities to women and young girls. In doing so, the committee ensures that the ladies enjoy the planned activities, are kept entertained and experience fun-filled training."
Winners have the opportunity to be featured in Bahamian fashion magazines, get involved in community service and outreach programmes. The ladies will also be given a variety of sponsored prizes and gift certificates.
Ms Knott said a favourite part of the competition for many was the lack of an onstage final question.
In addition to receiving prizes, the five winners have the opportunity to compete at the Galaxy International Pageant on August 3, in Orlando, Florida.
"It is so important for young women to sign up and for parents to register their young daughters. They will learn about increasing self-esteem, growth and advancement in career goals, the traits of good sportsmanship and displaying leadership skills as a role model in the community. With a supportive committee comprising of former beauty queens and pageant veterans, providing personal development training to women and young girls will always be our passion," said Ms Knott.
The official start of the pageant programme begins with an orientation for registered contestants, to be held at the end of January.  Registration Deadline for all divisions will be on Wednesday, January 23. To sign up, members are asking persons to write to bahamasgalaxy@yahoo.com, mbgalaxyorg@hotmail.com or call 558-4358 or 429-8963 for more information.Bahamas Galaxy Pageants is slated for Sunday, 28th April, 2013, at the Rainforest Theatre.