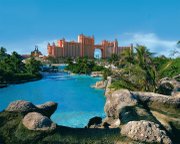 By NATARIO McKENZIE
Tribune Business Reporter
nmckenzie@tribunemedia.net
Atlantis's 2015 group booking pace is up 132 per cent, its top executive said yesterday, with the Paradise Island resort's booking for the past three months "off the charts".
George Markantonis, president and managing director of Kerzner International's (Bahamas), the hotel's operator, said 2012 had probably been Atlantis's best year since 2008.
Addressing the 22nd annual Bahamas Business Outlook conference, he added that the 3,950-room resort, which employs 7,735 staff, was looking at a strong 2013 performance as well.
"This past year has been probably been our best one since 2008. It looks like Atlantis's 3,950 rooms have had about a 70 per cent occupancy, which is about 3-4 percentage points higher than they did the previous year. This is good news. What happens at Atlantis tends to have a big trickle down effect in the community," said Mr Markantonis.
"For us, 2013 looks good; a little bit better than flat, but it looks good. Our bookings have been great over the last three months, humongous, they go off the charts. The booking pace is good, but what's really looking good right now is 2015.
"The way to judge that is by our pre-bookings. Generally, as hotel operators, the temperature reading is group pace; how many group rooms nights can we sell, because when we get the sort of group pace we require it enables us to yield  the rest of our property to the leisure travellers," Mr Markantonis added.
"Our group pace right now for 2015 looks like it's up 132 per cent, and that's a really remarkable number. It's even more remarkable when you consider what numbers we are doing in groups today. Atlantis at its peak was at 225,000 group room nights."
Turning to the much-debated reform of the Bahamas' casino gaming reforms, the Kerzner International chief said the industry had requested 18 changes "just to modernise our gaming product, just to stay competitive".
He added: "The biggest single blow Atlantis took in the old days was when the Hard Rock Hotel opened in Fort Lauderdale. That thing hurt us big time for a long time."
That hotel's opening, and Florida's general embrace of casino gaming, meant that the six million high net worth individuals in the Miami and Fort Lauderdale area could drive to gamble, no longer having to fly to the Bahamas and endure Customs/Immigration.
"It took a long time to get that business back. We don't want it to happen a second time," Mr Markantonis said.
Mobile gaming, with resort patrons able to place bets from their sale phones, was now the hot thing, he added.
Noting that Atlantis was investing $5-$6 million in a new "state of the art" sports book facility, Mr Markantonis asked whether Bahamians knew the current facility's location.
Suggesting they did not, he agreed: "I don't blame you; it's terrible. But this one is going to be the best around."
Noting that the Seminole Hard Rock casinos in Florida and Atlantic City did not have sports books or betting on horse races, Mr Markantonis said Atlantis was aiming to make inroads into the 'illegal sports betting market' in the US, bringing it into the light.
"We want to capitalise on and capture part of that," he said. "It could be in the billions."
A $1 million poker room at the Atlantis casino is also on the cards, Mr Markantonis said, adding that these upgrades - coupled with the legislative and regulatory reforms - could create up to 300 jobs at the resort alone.
Meanwhile, noting that the Latin American market and the likes of Brazil represented a "huge" opportunity for Atlantis and the Bahamas, Mr Markantonis said Russia was another market of interest.
Noting that 1,500 Russians visited Nassau last year, Mr Markantonis said they tended to travel far and spend money. "They could be very good for the Bahamas, because they come in large groups," he added.
However, Mr Markantonis admitted he was "sceptical" about the Bahamas' prospects of attracting significant numbers of Chinese visitors, directly contradicting the expectations of Baha Mar.
Acknowledging that it would "singlehandedly change our business" if this did happen, the Kerzner chief doubted whether an Airbus full of Chinese tourists would land in Nassau given the travel distance involved.
While they did travel to New York, there was enough there to keep the Chinese occupied.
Mr Markantonis said the Atlantis properties, now owned by multi-billion global asset manager, Brookfield, accumulates just under $1 billion a year.
"We spend about $50-$60 million a year on utilities. That's a huge utility bill. At the same time we spend anywhere between $45 million and $55 million in capital expenditure projects every year," he said.
"Those are projects to maintain the standard of the resort and to add new amenities, attractions and renovations."
Noting that the $3.5 billion Baha Mar resort project was set to come on stream in late 2014, Mr Markantonis said: "I think we have to think about our differences, where are we different, because that affects everything.
"First of all it's good to be different, because if we were the same this would not be a very optimistic session. Atlantis is a world-renowned brand but it took 16 years to get there.
"Brand building is not an overnight business and it's very expensive. Baha Mar still has to establish that and they are doing a good job. It's going to take a while to establish the Bahamian Riviera. In our opinion, the sooner they establish their brand the better. We want them to succeed."
Mr Markantonis noted that 42.7 per cent of Atlantis' bookings coming from family groups, while 17 per cent come from the casino business.
He added that it was his understanding that Baha Mar would be more of an adult and casino-centric complex.