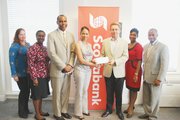 SCOTIABANK has again joined forces with Sunshine Insurance's Race Weekend as a corporate partner of the annual event inclusive of Marathon Bahamas and the Susan G Komen Bahamas Race for the Cure.
As a Gold Partner, Scotiabank has made a sizeable contribution to support this event which directly benefits the fight against cancer in The Bahamas. The event-filled weekend is January 19-20.
Scotiabank's manager of sponsorships, Indira Rolle, announced a new component to this year's event. "We are excited that through a partnership with the Ministry of Education and Rotary International, Scotiabank will this year sponsor a student component of the marathon dubbed 'Scotiabank Students Run Marathon Bahamas.'"
The Students Run component gives students from various high schools the opportunity to participate in the relay segment of the marathon.
Evon Wisdon, sports officer at the Ministry of Education, lauded Scotiabank for making it possible for students to participate in this significant event. To date, 15 student relay teams are registered to participate.
In addition to the bank's sponsorship of Marathon Bahamas Scotiabank is proud to announce Team Scotia's participation in the 5k Susan G Komen Bahamas Race for the Cure scheduled for Saturday.
Scotiabank's managing director, Kevin Teslyk, noted: "The fight against cancer in the Bahamas is a priority for Scotiabank and Marathon Bahamas is a very significant community initiative that we are proud to be associated with. We are excited to have Team Scotia participating in Saturday's Race for the Cure. Our employees are thrilled about joining such a worthy cause."