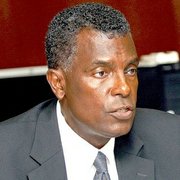 FOREIGN Affairs Minister Fred Mitchell warned those Bahamians who might be involved in a human smuggling ring that if they are caught, the "full weight of the law" will fall upon them.
Mr Mitchell's remarks came as he updated the press on the government's investigation into the disappearance of two Turkish nationals who were a part of a group of 19 persons attempting to be smuggled into the United State in March of last year.
The group, made up of seven Jamaicans, 10 Dominicans, and two Turkish nationals, all reportedly paid up to $6,000 to be smuggled into Miami by way of Grand Bahama on March 10, 2012. None of the 19 men has since been heard from.
According to Mr Mitchell all investigations by the Central Detective Unit in Grand Bahama, Interpol, and the American authorities have provided little help as the men remain missing. However, the case remains open under "active investigations."
Mr Mitchell said that any information that they find will be communicated to the Turkish Embassy in Havana, which, he noted, was regrettably not answered when they first contacted the Bahamas' Ministry over the matter. Mr Mitchell said that the "appropriate reprimand" for the lack of communication on the part of his ministry has been issued to those involved in the matter.
"One of the things we are looking at is in the bilateral discussions that took place with the US a couple weeks ago at the Assistance Secretary of State level, they indicated that they wanted us to look at our laws on smuggling to see whether or not we can make the actual crime of smuggling an offence because the way it looks now it's not as specific as it ought to be. So we are looking at that although the Attorney General's office has assured me that they do have the wherewithal to prosecute anyone involved in smuggling.
"But we don't support it. We are doing all we can to stamp it out and trying to tell our citizens to cut it out if they are involved in it, and if they are caught there will be no assistance rendered by the Bahamas Government to help people escape from this in other foreign countries. And if we catch them they will be prosecuted as a result of it and certainly in this country if we have the evidence against anybody they will feel the full weight of the law as a result of this."
Mr Mitchell added that it appears that there is a growing trend where persons would travel to Nassau as a tourist, stay here for a few days playing the role of a tourist, and then in the blink of an eye end up in Grand Bahama "followed by some kind of stop off to Bimini and then you disappear."
"The police are aware of this and are tracking trends on this and doing their best to stop it. We are working with other governments in the region to try and stop this as a matter of fact we meet with the Cuban Ambassador tomorrow and that is one of the matters I intend to raise with him," he said.
Mr Mitchell noted, however, that the Bahamas' proximity to the United States makes us a prime target for persons who wish to enter that country illegally.
"I'm not sure of all the methodologies and legalities clearly there has to be an investment in training to make sure that we are aware of all the methodologies, investment in equipment and technology. This is being driven by the US economy so we have a joint stake to make sure that this is stopped. So there will have to be an investment in radar technology so we can better track."
As to his Ministry's lack of response to the Turkish Embassy in Havana, Mr Mitchell blamed the mistake on "inadvertence."
"I can't say it's common, but what I think is that every once in a while we have to go through your procedures, particularly when you are dealing with Foreign Affairs procedures and officers who may not be familiar with the protocols as they should be and I think it is the case. Anytime a country sends you a note the very least you can do is acknowledge receipt of it," he said.