By LAMECH JOHNSON
Tribune Staff Reporter
ljohnson@tribunemedia.net
AN ATTORNEY'S two week extension to repay nearly $100,000 she stole from a former client is up and a two-year prison term could follow if she has failed to make full restitution.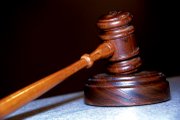 On New Years' Eve 2012, 42-year-old Sonia Timothy Serrette told the court she was unable to produce the money, which belongs to Fiordelisa Bain.
Following the pleadings of Serrette and her attorney Keod Smith for two more weeks, the victim said she was allow this final extension because she only wants her money back.
However, the retired teacher told Deputy Chief Magistrate Carolita Bethell that she was not coming back to court on today's date, January 18, if Serrette had not restored the money by the stipulated date of January 16.
Serrette was convicted of stealing by reason of service on August 15, 2012 and was remanded to Her Majesty's Prison for six weeks before returning to court for a report on whether the victim would be compensated.
Between the end of Serrette's remand and numerous appearances before the court, the last being on December 31, 2012, Serrette had been unable to make restitution, despite her and attorney's explanation of their strenuous attempts to do so.
The retired teacher, on those occasions, gave consent for Serrette to be given a chance to recover the money
In the last hearing, Serrette and Mr Smith told the court that all avenues had been exhausted and fell through.
However, Mr Smith said they were able to secure a letter from a financial institution, addressed to the court, concerning the possibility of giving Serrette credit to make restitution.
After looking at the letter, the magistrate said it was not only vague, but gave no indication of what amount had been requested or definitive confirmation that the loan would be approved.
Mr Smith said that based on his discussions with the signatory of the letter, he believed the institution in question would have an answer in four to six weeks.
Both Ms Bain and the magistrate did not accept this and upon the pleadings of Smith and Serrette, gave the convict an extension of two weeks.
"It was never my intention for Serrette to be jailed. I only want my money back. She took it without consent," Ms Bain told the Magistrate.
Proceedings resume today at 10am.