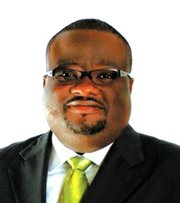 By NEIL HARTNELL
Tribune Business Editor
nhartnell@tribunemedia.net
A leading Bahamian airline executive yesterday said he was "most concerned" about the lack of direction and confusing policy statements by government officials over plans for the aviation sector and Bahamasair's development.
Captain Randy Butler, Sky Bahamas' chief executive, told Tribune Business that comments by David Johnson, the Ministry of Tourism's director-general, over a purported Bahamasair 'restructuring' had only served to cause confusion among private Bahamian-owned carriers.
Captain Butler, who also heads the Bahamas Aviation Association, said Mr Johnson's comments at the Caribbean Marketplace event seemed to imply that the Government was about to perform another 'U-turn' with the strategic plan for Bahamasair.
Current thinking has been to focus the national flag carrier, which consistently loses an eight-figure sum annually, on international routes with the express goal of increasing stopover tourist numbers by opening new markets.
However, Captain Butler told Tribune Business that Mr Johnson's remarks indicated a renewed focus for Bahamasair on the Family Islands.
This would take the airline, and its taxpayer-subsidised low air fares, into direct competition once again with privately-owned Bahamian carriers who have invested heavily in building up their businesses.
Indeed, Captain Butler told Tribune Business that Sky Bahamas was set to start service between Nassau and Long Island next month, with a possible route to the latter location from the US opening by Christmas. The carrier was also moving to extend the frequency of service to north Eleuthera from Nassau to twice a day.
"It speaks again to how disjointed it is, that there is no strategic plan and we're not going anywhere," Captain Butler told Tribune Business of the proposed Bahamasair 'restructuring'.
Noting the current focus on promoting Nassau/Paradise Island, the Sky Bahamas chief executive questioned whether there was any intent on the Government's part to develop the Family Islands and, by extension, domestic airlines.
While the current model appeared to be allowing Bahamian-owned airlines to 'distribute' stopover visitors to the Family Islands once they arrived in Nassau or Freeport, Captain Butler said Mr Johnson's comments had thrown this into question.
"Now, what we're hearing is that they're moving away from that," he added. "I don't know what they're doing, and they're making Bahamasair a bigger competitor to all those airlines supporting the local industry.
"What does that do to the domestic tourism model? Does that mean Bahamasair no longer has the right equipment to bring people from overseas?
"Someone needs to tell us what is the plan, what is the policy, and what does the Government intend to do? What is the direction? Who do we look to?"
Noting that Bahamasair was in the ministerial portfolio of Deputy Prime Minister Philip Davis, minister of works, the Sky Bahamas chief questioned whether he was setting the policy, or if it was the Prime Minister or Ministry/Minister of Tourism.
Noting that his Association represented 16 airlines and charter operators, and that they employed around 600 persons, Captain Butler questioned whether the Government was looking to further increase subsidies, already running at around $20 million per year, at a time of great pressure on the cash-strapped Treasury.
"That's what they have to do to expand into the Family Islands and reduce their air fares. People are concerned. I'm very concerned, I must say," Captain Butler told Tribune Business.
Noting that Sky Bahamas was focusing on growing its domestic market and routes, he added: "We are going to see where we can make money. Our whole goal is to stay in the game."
He added that the carrier was set to begin service to Long Island's two airports, Stella Maris and Deadman's Cay, come the second week of February.
The flights would also call on Exuma on the way to Long Island and coming back, given the number of Long Island natives working there in construction and in fishing.
Captain Butler said Sky Bahamas was looking at developing a US route to Long Island come Christmas 2013.
The frequency of its flights from Nassau to north Eleuthera is set to increase to twice a week, and Sky Bahamas is also exploring whether to open a Fort Lauderdale route to that particular Family Island destination.