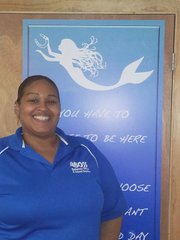 HARD work has paid off for one worker who has been named Employee of the Year 2012.
Keshla Carey won the title at Bahamas Office and School Supplies (BOSS), having joined the company in 2001 as a sales clerk.

"We take this time to congratulate her on a job well done and encourage her to keep climbing for the stars," said the company.

Keshla said: "It is such an honour to be awarded Employee of the Year.
"I would like to thank the management of BOSS for always pushing us to be at our best and expecting nothing less and for being able to incorporate a family and professional based environment among the employees, which makes for a better working environment."
Over the years Keshla has learned what it means to be a valuable team player.
Her bosses said she is always willing to help others, is quick with a smile and a pleasure to work with.

In 2006 Keshla was transferred to the warehouse as a supervisor in training. In 2008 she was awarded team member of the first quarter.
In 2012 management saw the need to have someone who can follow up with the sales reps and their customers and believed Keshla would be the perfect person.

She took up her new role in March last year and almost immediately the company saw an improvement.

The second quarter of 2012 Keshla was selected as employee of the quarter. She continued to work hard and became employee of the year.

Keshla added: "In my 11 years of
employment here, my work ethic has been nurtured along with my own personal growth and strength, so I'm here today proud of everything that was
instilled in me, everything I stand for and everything I've worked hard to achieve."