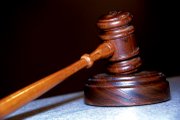 THE nine-member jury hearing evidence in the Earth Village robbery trial return to Supreme Court tomorrow morning.
Jurors were excused by Justice Roy Jones yesterday as prosecution and defence attorneys were discussing legal matters that did not require their presence.
They were ordered to return to court on January 25 at 10am, when the prosecution will continue its case.
It is alleged Frederick Green and Dekota Von Lockhart robbed tourists at gunpoint during a nature tour of Earth Village.
Green, 30, of Carmichael Road and Lockhart, 24, of Churchill Avenue, face six counts of armed robbery and three counts of receiving.
It is claimed that on November 20, 2009 while armed with a firearm, they robbed Elizabeth McDonald, Edena Farah, Robert Young, Paul Coladonato, Tung Sii Yun and Ronnie Chiang Chew Bang of cash, Apple iPhones, a Macbook, credit cards and various personal items.
It is further claimed that they received items belonging to Mr Coladonato and Mr Chew Bang.
Green, also known as Frederick Neely, and Lockhart deny the nine charges against them.
Green is represented by Dorsey McPhee while Lockhart is defended by Roger Gomez II.
So far, the jury has heard the evidence from a number of witnesses including Elizabeth McDonald of Toronto, Canada, and Edena Farah, a tour guide.
Ms McDonald told the jury how her stop-over visit to Nassau as a cruise passenger ended with her and other tourists being ordered by gunmen to lie in the dirt to await their turn to be robbed after watching their female tour guide gun butted to the ground.
Ms McDonald recalled the "traumatic experience", in which she said knew the guns the two robbers held were real after two shots went off.
The tour guide who took nine cruise ship visitors on Segways through a trail in Earth Village said it never crossed her mind that they were about to be robbed when a man walked out of the bush with a gun.
Ms Farah said she "almost" thought the man was a part of the Caribbean Segway Tour, because of how "easily" he walked out of the bush.
"It didn't register until he put the gun in my face and said, 'Get the f* down'," she said.
Ms Farah's description of the robbers was contested by Mr Gomez II.
Cpl 2190 Valentino Smith also testified in court and exhibited cameras, wallets, and money allegedly stolen from the tour group during that robbery.
Court proceedings begin at 10am. Vernal Collie and Abagail Farrington are prosecuting for the Crown.