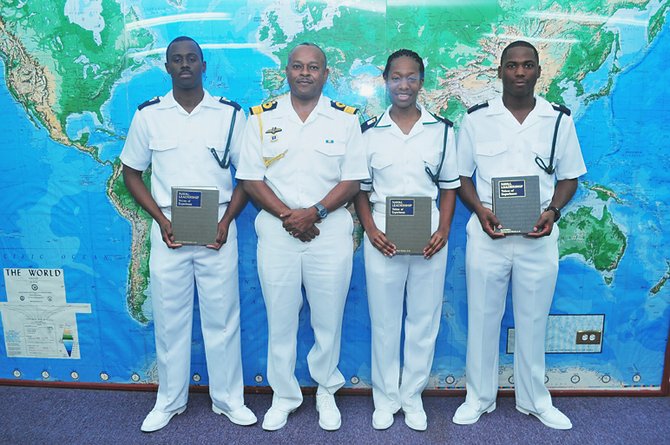 Midshipmen Danielle Morley, Lavan Paul and Ladario Brown of the Royal Bahamas Defence Force are the newest addition to the Officer's Corps after successfully completing Naval Officer Training in England.
The rigorous eight-month training course, which is designed to prepare naval/military cadets for the important leadership and management positions they will assume throughout their careers in the Defence Force, was conducted May 5th – December 21st, 2012 at Britannia Royal Naval College (BRNC) in Dartmouth, England.
At BRNC, the young officers were trained in areas such as leadership, navigation, strategic studies, meteorology, ship technology, maritime operations, ethnicity and diversity, firefighting, chemical, biological, radiation, nuclear, and damage control.
Midshipman Morley is a 2005 graduate of L N Coakley Senior High School, Exuma. A 2009 graduate of the College of the Bahamas with an Associate Degree in Architecture, Morley joined the Defence Force in April 2010, and was initially assigned to HMBS Bahamas.


A 2008 graduate of the St Johns College, Midshipman Paul joined the Defence Force in June 2011, and was initially assigned to the Military Police section.

A 2003 graduate of Temple Christian High School, Midshipman Brown graduated from Embry Riddle Aeronautical University, Daytona Beach, where he obtained a Bachelors degree in Aerospace Engineering in June 2011, he enlisted in the Royal Bahamas Defence Force, where he was also assigned to the Force's Military Police section.

The young officers were officially welcomed on their return by Commodore Roderick Bowe, who presented them all with a book entitled "Naval Leadership - Voices of Experience".