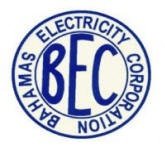 By NATARIO McKENZIE
Tribune Business Reporter
nmckenzie@tribunemeida.net
THE Bahamas Electricity Corporation (BEC) is spending more than $350 million per year on fuel supplies, its general manager telling Tribune Business yesterday that the fuel charge on consumer bills currently accounts for 60-70 per cent of the total.
Kevin Basden, who was attendeing the 13th annual Platts Caribbean energy conference, said that while the Corporation's hands were tied due to the cost of fuel on the international market, it was looking at improving the output from its Clifton power plant as well as renewable energy usage.
"Our hands are somewhat tied based on the cost of fuel in the international market," he said.
"One of the things we are doing locally is trying to improve our output from our Clifton pier plant, which uses the heavy fuel oil, and by maximising that we can reduce the overall fuel cost to some extent.
"The other aspect is, as we look to our next generation of plant, we will be looking at what type of plant do we put in place. We would be going with the most efficient in terms of operations as well as in terms of fuel cost, so we would have to look at the full picture."
Mr Basden said BEC was looking to have 60 per cent or more of its electricity generated from its Clifton power plant, which uses the cheaper Bunker C fuel.
"As a company we can spend well upwards of $350 million plus per annum on fuel; it's very expensive.," he said.
"We make no profit off of that as an organisation. Whatever monies are paid goes directly to the oil company. Right now, the the fuel charge is probably 60-70 per cent of the bill.
"A customer may say look, my basic rate is 'x', but my fuel charge is so much higher. That is simply because the cost of fuel is so high, and that is the major component in terms of producing electricity at the moment."