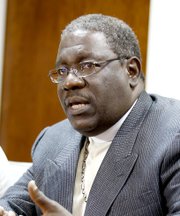 By BISHOP SIMEON HALL
Pastor Emeritus New 
Covenant Baptist Church
TODAY'S referendum is another official opportunity for all citizens of our Bahamas to deepen our democracy and help to correct an age-old vice and an out-of-control national pastime.
Before the May 7 elections, all three political parties indicated the need to look at this negative underground social vice which some 100,000 people engage in almost daily.
Prime Minister Perry Christie and his government are to be commended for addressing this activity head-on.
Some say the referendum is flawed. I believe it is a credible beginning and Bahamians should participate in it and vote yes or no.
How do we fix something that is illegal; practiced by thousands and over which the government has no regulation and receives no direct taxes? This is the polemical question the Bahamian voters must face.
I call on all patriotic Bahamians to have some say – one way or the other in this historic exercise.
I call on all Bahamians to vote their conscience and not to be intimidated or fearful of anyone who holds an opposing view to their own – yes or no!
Christians waving their Bible and condemning others who hold an opposing view do not know church history nor do they represent the true spirit of Christ.
While some call the numbers business a sin, I prefer to call it "a vice" as does Dr Myles Munroe, who in a January 16 release said: "The practice of gaming, wagering and gambling in any form is harmless and innocent and could be a healthy form of play, but when the activity transitions from a game of play to a major source of one's lifestyle and survival it becomes a debilitating vice. This is the danger of nationalising the art of gaming in any form."
Brother Myles, as usual presented a scholarly and sensible position. However, his presentation did not address the fact that web-shop gaming is already "national" (each shop holds a government licence) and how do we fix this underground activity?
I wish to suggest that not to address this 80-year-old Bahamian practice is worse than to legalise it.
From the very beginning of this debate, my position has been to eliminate or regulate.
In the face of severest criticising; denigration and even being sentenced to hell, this is still my position. Right now, I do not play numbers nor do I encourage any Bahamian to play numbers and I have not benefited in any way from this exercise.
Most persons, especially pastors who ought to know better, speak about the referendum as if it will begin gambling. As I understand it, the referendum will eliminate or regulate this illegal underground activity.
The Bahamas Christian Council is made-up of more than 20 different denominations, and each hold a different perspective on Christian faith.
The referendum does not concern a doctrine nor a dogma but a social practice which if it is over indulged – like social drinking, eating, partying, sex or even going to church every night and leaving your children – can harm a person or his/her family.
I sincerely believe we should lift this more than 300 million dollar activity out of the closet into the light and allow the government to tax and regulate it.
At present, there are no programmes to assist those who become gambling addicts, thus the need for regularisation. The government does not receive any taxes from this booming business – thus the need for regularisation.
For me, there is no difference between web shops and Atlantis or Crystal Palace, or the gambling on cruise ships when one goes on a vacation (several Vote No pastors should take note of this line).
A closing point: I respect the position of all those who have spoken on the referendum – on both sides. Some have been below the belt; others out of this world, but in the main it all makes for a healthy debate. As a good citizen, vote your conscience – but get out and vote.