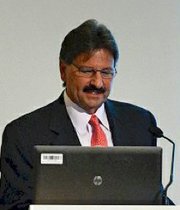 By NEIL HARTNELL
Tribune Business Editor
nhartnell@tribunemedia.net
A prominent Bahamian real estate firm told Tribune Business yesterday that its 2012 sales volumes were up 14 per cent year-over-year, its president adding: "We have started 2013 on the right foot."
George Damianos, head of Damianos Sotheby's International Realty, said the company's performance last year was "pretty good" given all the developments in the Bahamian and world economy, with its average sales price matching the $1.3 million it posted in 2011.
He disclosed to Tribune Business that the majority of Damianos Sotheby's buyers continued to come from the US, although this varied by office.
While US buyers continued to lead the way at the company's Family Islands offices, Canadians and British purchasers headed the way when it came to New Providence transactions - something Mr Damianos attributed to a greater desire to "put down roots" and obtain permanent residency status.
In a newsletter released yesterday, Damianos Sotheby's said most of its sales were at prices "below replacement costs" - meaning the combined land value and property's construction costs. And the buyer pool was still much smaller, given that most purchases were 'all cash' as opposed to being financed by a mortgage.
Mr Damianos told Tribune Business that while Damianos Sotheby's was relatively insulated from the middle class Bahamian market, as it specialised in high-end, luxury sales, he estimated that the buyer pool in the domestic segment had shrunk by 40-50 per cent due to the difficulties associated with obtaining mortgage financing.
"We're up 14 per cent over last year, which we're thankful for, all things being said," Mr Damianos said of the company's 2012 sales volume.
"It's pretty good going in this marketplace today, the economy and everything else that is going on. We're not ecstatic, but are definitely happy with where we're going."
Damianos Sotheby's sales were "still pretty much" to US buyers, with UK purchasers ranking second in volume, and Canadians and Europeans in third and fourth spot.
But, while American buyers held the top spot at Damianos Sotheby's Abaco and Eleuthera offices, British purchasers were "number one" for the company's Nassau office, and were tied with Canadians at Lyford Cay.
"The price point is a little bit less in the Out Islands, and that seems to be the trend; that they [Americans] do like the more laid-back and vacation oriented purchases, whereas the people buying in New Providence are more serious about putting roots down and applying for permanent residency."
Americans, though, remained the top sellers for Damianos Sotheby's in 2012, and the firm's average sales price of $1.3 million was "impressive for a small company".
As for the 2013 outlook, Mr Damianos told Tribune Business: "In general, we have a good feeling. We have started the year on the right foot, and it's definitely holding true.
"If the buyers see good value for their money, we can make the transaction happen. It's a simple function, it's just a question of finding sellers prepared to be serious and willing to dispose of their properties.
"At the high end there are lots of people wanting to own trophy properties in the Bahamas, but they're not going to close on trophy properties at unrealistic prices."
Writing in Damianos Sotheby's newsletter, Virginia Damianos, the company's vice-president, said: "2012 saw real estate transaction volume up slightly from 2011. This incremental growth in the number of properties sold, and an increase in buyer interest, has not resulted in any significant increase in sales prices.
"Each year since 2010, the Bahamas has experienced some growth in the number of properties sold."
She added that 'Priced to Sell', with sellers seeking deals that offered buyers value based on current market prices, was vital to closing transactions.
"Savvy sellers realise that we still have years to go before returning to pre-recession prices. Buyers in today's market are only willing to write a cheque if they are certain they're getting value for money," Ms Damianos said.
"Small island vacation communities, such as Hope Town in the Abacos, have experienced an increase in interest and sales, mainly to Americans, due to value-pricing.
"The market on Eleuthera and Spanish Wells is slowly strengthening, with the majority of sales to Bahamians and Americans. There is a slow rebound in Exuma, with a lot of Canadians visiting the popular Sandals resort and falling in love with the island."
Nick Damianos, Damianos Sotheby's top producing agent, said prices and sales volumes indicated "that the worst days of the real estate market in the Bahamas are behind us.
"The data suggest that the low point in our market was experienced in late 2009/early 2010. Since then we have been on a very slow but steady upswing."
Europe's sovereign debt crisis, and major tax rate hikes in nations such as France, had encouraged wealthy Europeans to eye the Bahamas as a safe haven for their assets and investments.
"It is important to note, however, that these wealthy European buyers are not sweeping in to the Bahamas in a wave of "irrational exuberance" but are trickling in slowly and cautiously, with a keen eye on value pricing. Most home sales are still occurring below replacement costs (land value + construction costs)," Nick Damianos said.
"Almost all of our sales are cash purchases, subsequently making the buyer pool rather small."