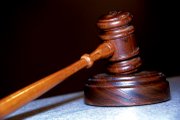 A MAN was sentenced to 12 years imprisonment yesterday after admitting to robbing a man of $35,000 car at gunpoint eight years ago.
Gregory Dion Johnson, 26, was expected to stand trial yesterday on a charge of armed robbery after a jury was empanelled on Monday.
However, before evidence could be presented by prosecutors Eucal Bonaby and Anishka Hanchell, Johnson opted to change his plea to guilty.
It was claimed that while armed with a gun on December 20, 2004, he robbed a man of a $35,000 2001 Silver Lexus GS300 outside the Casuarinas, West Bay Street.
Romona Farquharson-Seymour appeared for Johnson in yesterday's proceedings.