By LAMECH JOHNSON
Tribune Staff Reporter
ljohnson@tribunemedia.net
IF the bullets that struck a female shooting victim on April 8, 2011, hit a major blood vessel, she could have bled to death very quickly, a jury was told yesterday.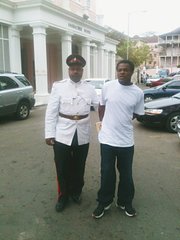 Dr Collin Bullard, of the Princess Margaret Hospital, testified that according to medical notes on the case of Joan Forbes, after being shot, she had to be admitted to the hospital and placed in the Female Surgical Ward for management of her wounds.
As the Accident and Emergency physician gave his testimony, Rafik Turnquest, the man accused of double attempted murder, sat behind his attorneys Romona Farquharson-Seymour and Candice Hepburn, listening to the evidence.
Turnqest, 27, of Toote Shop Corner, faces two charges of attempted murder, though he initially faced three.
It was claimed that he tried to murder Joanne Forbes, Jamalio 'Fat Dawg' Forbes and Arnold 'AJ' Stubbs. Turnquest denied the charges.
Last week, Jamalio Forbes opted to withdraw the complaint, instead of giving evidence.
In yesterday's proceedings, after prosecutor Koschina Marshall called Dr Bullard to the witness stand, he noted that he was not the attending physician at the time, but had worked with Forbes' doctor and knew his signature in the medical file.
"The document speaks to the nature of injuries suffered?" the prosecutor asked.
"Yes they do," the physician answered.
"What does it say about the injuries?" the prosecutor asked.
"She was brought in by ambulance sustaining gun shot wounds to the right hip and right upper thigh," Dr Bullard said.
"Results reveal two gun shot wounds. One of the bullets went into the right thigh, exited and went into the left thigh. The other bullet, the one that entered into the right hip, got lodged into the pelvic bone," the court heard.
Ms Marshall asked about the treatment Joan Forbes received and Dr Bullard said that according to the file, she received a tetanus shot, antibiotics, pain killers and insulin, "because she's diabetic".
Dr Bullard further noted, when asked by the prosecutor, that their were major blood vessels in the area that Ms Forbes was injured.
"If any of those major blood vessel were hit, the patient could have bled to death very quickly," he said.
Ms Marshall asked what happened after tests were conducted.
Dr Bullard said that the patient had to be admitted to hospital and placed in the female surgical ward for further "management" of her wounds.
During cross-examination,
Mrs Seymour asked the physician if the patient had surgery.
Dr Bullard said he could not speak to that, because the notes did not say.
The attorney asked if it was correct to say that "her injuries were unlikely to end fatally?"
Dr Bullard said that at the time when she came in, it did not appear so.
The trial resumes today before Justice Vera Watkins. Court proceedings begin at 10am.