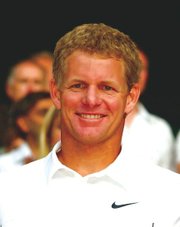 By BRENT STUBBS
Senior Sports Reporter
bstubbs@tribunemedia.net
IT wasn't the finish that Mark Knowles had anticipated, but he can take consolation in the fact that his mixed doubles partner Sabine Lisicki of Germany is having the time of her life in the women's singles at the Wimbledon Grand Slam Tennis Tournament in London, England.
Knowles, 41, and Lisicki, 23, were scheduled to play their second round match on Monday, but they lost by a walkover to the team of Aisam Qureshi of Pakinstan and Cara Black from Zimbabwe after Lisicki was unable to play following her thrilling three set upset over American defending champion and No.1 seed Serena Williams in the third round of the women's singles.
"I think more than anything else was the fact that she had asked not to be on the schedule for mixed for Monday because she knew that if she had won singles on Monday she would have to turn right around and play singles again on Tuesday," Knowles said.
"It's unfortunate that they didn't honour that request. She won a very gruelling three set match for the biggest win of her life in the biggest tournament for the year. She was just exhausted, rightfully so. We were on the schedule and she had to come right back and play singles again tomorrow, so it was a big decision for her. But she made the right decision to withdraw from mixed doubles."
While Knowles said he would have liked to see how far he and Lisicki would have been able to play in the tournament after he and Australian Lleyton Hewitt got ousted in the first round of the men's doubles, he said he too was disappointed that Lisicki was not granted her request.
"There was really no rush to play us today because the people in the other section of our draw are not playing until tomorrow (today)," Knowles said. "There's only so much you can control in tennis and scheduling isn't one of them. You can only make requests and hope that things work out.
"We were just basically taken out of the tournament, but there is only so much you can do. We were thankful that we were granted a wild card, but on the other end, disappointed that we didn't get to finish and see how well we can do. The best side of it is Sabine is playing great singles and she made the right decision based on where she was, having to come back to play the quarterfinal tomorrow."
Despite getting ousted, Knowles said he and Lisicki gave it a good run, winning their first round match 6-7 (2), 6-4, 6-4 over Mahesh Bhupathi from India and Daniela Hantuchova of Slovenia on Saturday. Having pulled off a stunning 6-2, 1-6, 6-4 upset over Williams, Lisicki is now set to take on Kaia Kanepi of Estonia in the quarterfinals.
Knowles, who came out of a one-year retirement just to play in the tournament, will now prepare to play in the World Team Exhibition Tournament over three weeks, starting next week for the Sacramento Capitals before he returns to the sidelines to watch as a fan.