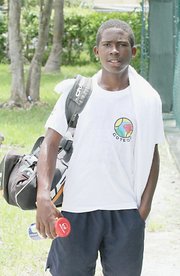 By BRENT STUBBS
Senior Sports Reporter
bstubbs@tribunemedia.net
O'NEIL Mortimer is fast becoming one of the bright young talents to watch in the Bahamas Lawn Tennis Association.
Following in the footsteps of his uncle, Dentry Mortimer, the 14-year-old Mortimer picked up his second consecutive singes title in the boys 12-and-under division of the BLTA's Junior National Tennis Tournament at the National Tennis Center on Monday.
His triumph came with a 6-1, 6-1 decision over Justin Minns.
"This is the third time winning this tournament, so I'm very pleased," Mortimer said. "But it was a risky match because my opponent was good."
After playing it a little cautious in the first set, Mortimer said he stepped it up a bit in the second set and took control in the second set.
"I felt I went through a lot of good players to get here," Mortimer said. "The draw was pretty good. I'm just glad that I won this tournament again."
Prior to winning back-to-back titles in the 14s, the St John's College student captured the 12-and-under title two years ago. He is also going after another title when he teams up with Jacobi Bain in the boys doubles.
Bain, by the way, is into the final of the boys 12 singles after he disposed of Owen Taylor 6-0, 6-1.
"I played good. The game he got, I was just nervous," said Bain, who was broke on advantage for a 4-1 deficit for Taylor. "Other than that, I think I played the way very good. I'm not going to just get ready to play in the final. Hopefully I can win that title."
Bain, a 10-year-old student at St Anne's School, will play the final against No.2 seed Dante Armbrister, who prevailed with a 6-1, 6-4 win over No.3 seed Kofi Bowe.
"I'm looking forward to playing that match," said Bain of the final that will be played today.
In another boys final yesterday, No.2 seed Shannon Francis pulled off the boys 16 title with a 6-4, 6-0 win over unseeded Dylan Walker.
On the girls' side, top seed Iesha Shepherd has been the cream of the crop so far.
Shepherd earned her berth into the final of the girls 16 singles with a 6-3, 6-0 win over Savannah Roberts and will now play No.2 seed Gabriella Donaldson in today's final.
"It was a breeze in the park," said a confident Shepherd after the victory. "I didn't have to use that much energy. She was a good opponent, but I was just victorious."
Shepherd had her hands full as she contested the girls 12-and-under yesterday against Lauryn Daxon. Shepherd was the No.2 seed with Donaldson as the top seed. Donaldson played Afrika Smit in the other half of the semis to determine who will meet in today's final.
"I like my chances in both of them," said Shepherd when asked which one of the two titles she was looking forward to winning. "I want to keep the number one ranking in both of them. I don't want to drop down to number two in any of them. None of the matches will be harder than the other."