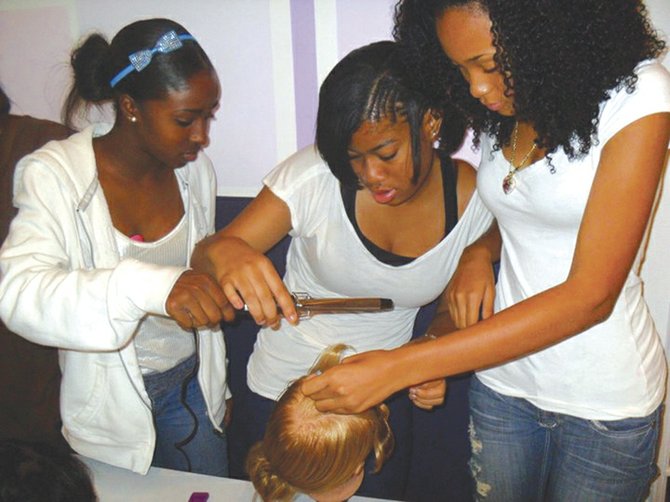 By ALESHA CADET
Tribune Features Reporter
acadet@tribunemedia.net
THE ladies at Eye Candy Makeup Studios are calling all 'fashionistas' to join them as they host their highly anticipated  Candy Girls Summer Camp 2013.
Under the theme "I Dream Of Pink," Joconda Williams, Owner and Manager at Eye Candy Makeup Studios said they were looking forward to helping groom young ladies to become women of integrity.
She said the Candy Girls Summer Camp is a version of the studio's extended training geared more towards young girls and teens.
"The camp also helps the girls to become more well rounded with hair care, make-up application and fashion.  It is designed to help our girls break out of their shell and dare them to be more positive and assertive. We also focus on community services as well," said Ms Williams.
At the Candy Girls Summer Camp, Ms Williams said they would usually end with a finale fashion show. She said:
"The show is an opportunity for any young girl, model type or not, to be given the chance to do something that has been stereotyped for women or girls that look a particular way. We welcome all and everyone should be given this opportunity, you just never know what can happen."
Speaking about the theme 'I Dream of Pink,' Ms Williams said: "It came about after spending some time brainstorming. Pink is generally known as the colour for girls and one of the themes of this camp is to not be afraid to dream, because there's no limit to what you can be."
She added: "We really want to help our young women understand more about being graceful and having self confidence to know that they can live their best lives now, and it starts at a young age; believing that and living that."
The activities for the camp run from July 1-13, 10am to 2pm weekdays at Mario's Bowling and Entertainment Palace.
Ms Williams said all participants ages eight to eighteen years old, will take part in theme activities such as... 'Princess looks for the Fashion Show', 'Fashion and Accessory', and 'High Fashion Hair styles.'
The girls will also have a chance to learn important facts on skin care, hair care and makeup application, as well as participate in a photo shoot, community service at the Elizabeth Estates Children's Home, and the finale Fashion show on July 14.
Ms Williams said a total of thirty girls signed up and participated in last year's camp. She said the fashion show gathered over two hundred Bahamians in support of the Candy Girls.
Ms Williams said: "The parents appreciated the effect the camp had on their girls. A lot of the girls were very smart and educated but they were lost when it came to fashion and make-up tips. The camp helped them to be more well rounded, almost like a 'beauty and brains' kind of thing."
Ms Williams said this year Eye Candy Studios invited Theodore Elyett, the season three Bahamian Mission Catwalk winner, to come in and talk to the girls about fashion and styling.
"We are hoping to get the same amount or more girls participate this year. One of the highlights of the camp is the fashion how, so we are really just looking forward to expressing the theme for this year 'I Dream Of Pink' in the final show," said Ms Williams.
She said:
"There is a lot of work to do, preparing for the fashion show. The campers will be doing an opening number that they will have less than ten days to learn. They will also be doing their own hair and makeup for the show, so they can expect a whirlwind experience."
Ms Williams said the total cost to sign up and participate in the camp is $300. She said it includes a t-shirt, a tote-bag, a makeup kit and one free ticket to the fashion show.