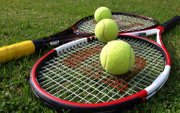 By BRENT STUBBS
Senior Sports Reporter
bstubbs@tribunemedia.net
FRESH off his role as captain of the Bahamas men's Davis Cup team, John Farrington will now prepare to travel to Santa Tecla, El Salvador, next week as the captain of the women's Fed Cup team.
The team, featuring Grand Bahamians Simone Pratt and Larikah Russell, Kerrie Cartwright and Danielle Thompson, are expected to compete in the Fed Cup by BNP Paribas 2013 Americas Zone Group II, July 16-20 on the outdoor clay courts at the Maya Country Club.
"I know the girls, but I don't know them that well," said Farrington, who will be making his initial trip as the captain. "I know Kerrie extremely well because I coached her. But I know that we will have a very strong team. So once again, I will be looking for some positive results.
"I told the president of the BLTA (Derron Donaldson) that I am confident that we will do well down there based on the team that we have put together. So although it will be my first time as the captain of the Fed Cup team, I am looking forward to working with these young ladies."
The Bahamas will be playing against teams from Bolivia, Costa Rica, Dominican Republic, Ecuador, El Salvador, Guatemala, Honduras, Puerto Rico, Trinidad & Tobago and Uruguay.
The teams will be divided into two pools of six and five respectively. The top two teams in each pool will cross over to determine which two teams will be promoted to the Americas Group II in 2014.
"I know it's going to be tough competition and so we will have a lot of hard work to put in," Farrington said. "Having coached ladies on the tour, I don't feel it will be much of a challenge. We are just going to have to put in a lot of hard work and work together as a team and if we can do that, we will be able to do well."
The team will begin practicing today at a private court on Paradise Island before it departs for El Salvador on July 13.
"Everybody has been playing some very good tennis," Farrington said. "So when we get together, it's going to be for us to develop some continuity before we head off. Kerrie Cartwright just won a tournament for her college and both Simone and Danielle will be playing in an ITF coming up here this week and Larikah has been busy preparing herself. So they're all looking good."