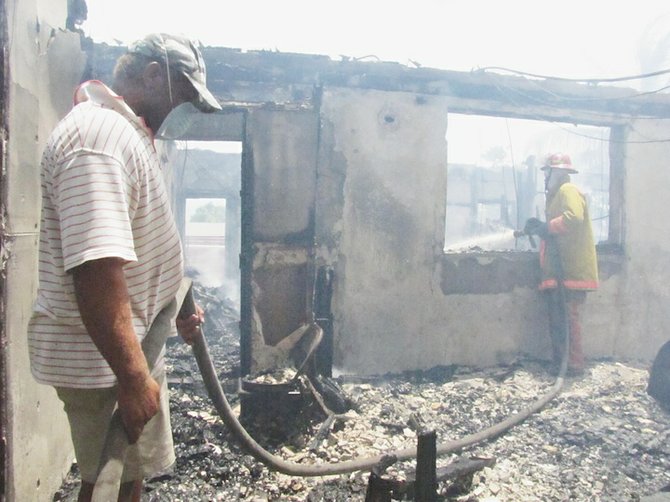 By AVA TURNQUEST
Tribune Staff Reporter
aturnquest@tribunemedia.net
ELEUTHERA - District financial records were turned to ashes when a morning fire destroyed the North Eleuthera Administrator's complex yesterday.
The fire gutted the one-story government building in Upper Bogue – which also housed the district's Post Office and Magistrate's Court – and emitted fumes so thick that one employee was airlifted to New Providence for treatment of smoke inhalation.
According to Supt Ismella Davis, officer in charge of the Eleuthera division, preliminary findings indicate the fire may have been caused by an electrical shortage in the storage room at the rear of the building. Along with electrical systems, officials confirmed there were six generators stored in the storage room for use in shelters.
Up to press time, it was unclear whether the contents of two safes, one in the Administrator's office and another in the Post Office, can be salvaged.
While it is believed that there may have been funds stored inside the safes, all records of its contents have been destroyed.
Yesterday morning, Local Government minister V Alfred Gray, accompanied by Central and South Eleuthera MP Damian Gomez and Fire Chief Walter Evans, said the incident was a huge loss to the settlement as residents will now have to travel further for government services.
Mr Gray assured displaced workers that the government will seek to relocate staff as it charts the reconstruction process.
"We've lost quite a lot because of this fire," Mr Gray said, "this building housed the post office, the administrator's office, the local government office, and nothing from those offices was saved."
He said: "I'm going to go back to report my findings to cabinet and seek approval for reconstruction within the next several weeks. I feel sure that by the end of the year the building will either be completed or well on its way to replace (devastated) building."
Workers began smelling smoke sometime around 11am, according to senior deputy district administrator Joltan Johnson.
Mr Johnson said the settlement had been plagued with several bush fires last month, and it was suspected that another one had broken out when smoke began filling the area.
Laura Bullard, a Post Office worker, said: "We were so used to smelling smoke around the area we didn't think that it was isolated to the building. When I got up from my desk and walked into the hall that was when I saw the smoke in the back area."
What began as small wisps of smoke soon grew to a thick voluminous cloud that billowed out of the building and spread across the area because of the high winds.
Supt Ismella Davis Officer said: "The fire appliance from Eleuthera responded and we then pulled the additional units from Gregory Town and Hatchet Bay to give additional support."
She added: "We had some slight challenges as it relates to the wind but I think the officers were trained and the volunteers had been trained well so they were able to respond to it rather quickly."