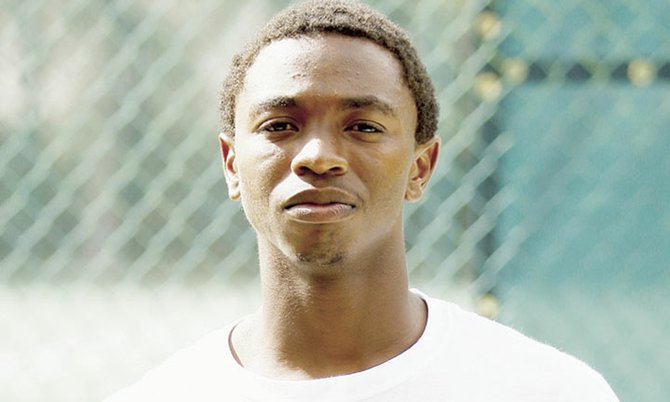 THE celebration of the Bahamth Anniversary of Independence moved from Clifford Park to the National Tennis Center on day three of the ITF Juniors Junkanoo Bowl.
Four Bahamians advanced to the quarterfinals in their respective draws, with each delivering dominant straight set performances.
Kevin Major Jr, the fourth ranked player in the Boys 18 draw, advanced to the quarterfinals with a 6-4, 6-0 win over Jack Van Slyke of Canada yesterday.
Christian Cargill, seeded sixth, advanced with a 6-1, 6-1 win over Jesus Suarez Rivas of Mexico and Rasheed Carey won 6-2, 6-2 over Pablo Lando Catan, also of Mexico.
In the quarterfinals, Major will first his first ranked opponent of the tournament in Anudeep Kodali of the United States, who advanced with a 6-2,6-0 win over Andres Hernandez of Mexico.
Cargill will face top ranked Toshiki Matsuya of Japan, who won 6-1, 6-1 yesterday over John Jorgenson of the United States and Carey will face Mexican Luix Morfin Friebel who advanced with a 6-0, 7-5 win over Daniel Gutierrez of Costa Rica.
Simone Pratt, ranked seventh in the Girls 18 draw, followed with a 6-2,6-1 win over Mira Karamercan of Turkey.
She now advances to face second seeded Mia Horvit of the United States, who won 6-2, 7-5 over country woman Alexandria Agee.
Eighth seeded Danielle Thompson was unable to reach the quarterfinal after she was upset by Madison Harrison of the United States, 7-5, 6-2.
In the Boys 18 Doubles Draw, there will be a Bahamian presence on three of the four teams in the semi-final round.
Cargill and Major advanced with a 4-2, 5-3 win over Treajh Ferguson and Sinan Orhon of Turkey. They will face the team of Kodali and Alenjandro Tabilo of Canada.
In the otherhalf of the draw, Carey and Landa Catan won 5-4, 4-2 over Oscar Janglin of Sweden and Matsuya.
They will face Shaquille Taylor and Van Slyke in the semi-final after they defeated Morfin Friebel and Suarez Rivas, 3-5, 4-2 (10-4).
In the Girls 18 Doubles Draw, Pratt and Alyssa Mayo were eliminated after a 5-3, 4-2 loss to Harrison and Elizabeth Sutherland of the United States.
In other matches Adrienne D'Alewyn and Karamercan lost in straight sets 4-0,4-0 to Horvit and Sofia Kenin (USA) while Gabrielle Bowe and Meisha Kendall-Woseley lost by walkover to Elysse Graci, USA) and Tyler Smith (Bermuda).