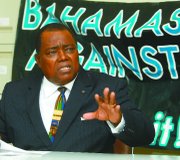 By KHRISNA VIRGIL
Tribune Staff Reporter
kvirgil@tribunemedia.net
AN INFLUENTIAL church pastor is urging the government to make its position known as to whether billionaire Peter Nygard's request to lease acres of Crown land will be granted.
Rev C B Moss, who is also a part of the Coalition to Protect Clifton Bay, insisted that answers are needed over the application especially as hundreds of Bahamians have waited for years to receive such an approval.
He was speaking to The Tribune after a video of himself engaged in an argument with Mr Nygard outside Mount Olive Church was posted on the internet. In it, Mr Nygard is accompanied by an entourage to the Meeting Street church claiming that he was seeking to squash the bad blood that existed between them. 
However, Rev Moss suggested that his only issue was that the undertakings at Nygard Cay were robbing Bahamians of that to which they are entitled.
"Mr Nygard," he said, "is having too much to say in the business of the Bahamian people. If he made a request to lease the land, he should wait and see what the government will do, but it seems as though he is badgering the government.
"One thing is certain, the government of the Bahamas needs to state to Bahamians what they will do regarding what belongs to us. Do you know how many people have made requests for Crown land and years later, and hundreds of people later, they haven't heard one thing?"
Mr Nygard also suggested in the video that Rev Moss and Lyford Cay billionaire Louis Bacon were friends, which was the reason for Rev Moss' opposition to the continuing development at the Cay.
But Rev Moss assured The Tribune that he has never met Mr Bacon nor has he ever advocated anything on his behalf.
"Nygard is all about bad mouthing people and that is anyone who goes against him. They are vilified. People all over social media networks have been tearing into me.
"It is all a smoke screen with people representing the Coalition made criminal."
On its website, the Coalition to Protect Clifton Bay have claimed that Simms Point, or Nygard Cay, had allegedly "almost doubled in size" from 3.25 acres in 1984 – when Mr Nygard bought it – to 6.1 acres by 2012.
"This accreted Crown land reputedly has a value of between $25 to $30 million," the Coalition alleged, suggesting that the land reclamation had negatively damaged the surrounding marine habitat and environment.