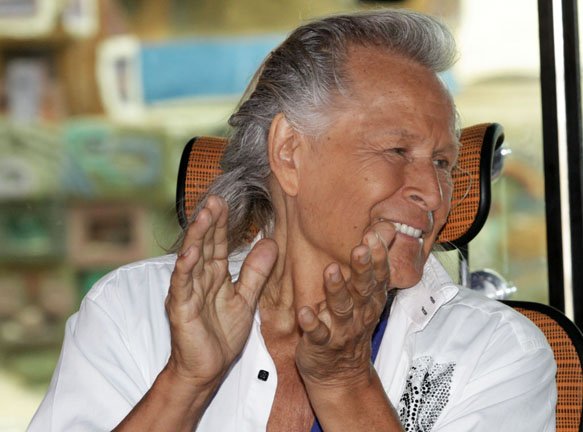 By KHRISNA VIRGIL
Tribune Staff Reporter
kvirgil@tribunemedia.net
AT WHAT was supposed to be a press conference to announce a $10,000 donation to the upcoming Acklins regatta, Peter Nygard spent a great deal of time verbally attacking his billionaire rival Louis Bacon – including alleging that one of his family members was a high ranking Ku Klux Klan member.
Mr Nygard yesterday made comments about Mr Bacon's relationship with black people which he claimed stemmed from Roger Moore, Mr Bacon's great grandfather who was allegedly an infamous KKK organiser.
He said that Mr Bacon found it problematic that black Bahamians had visited Nygard Cay for decades.
"I have been bringing black people here for 40 years," Mr Nygard said, "bringing the ordinary Bahamian in here. Not just the guys who are on top of the food chain but every day Bahamians.
"My neighbour had not liked that. In fact he hated that because he and I come from two different schools. I come from Finland. We were slaves to Russia. We had to bow to the master all the time. (But) he comes from North Carolina and his great grandfather was the grand dragon.
"The ultimate black haters. So we come from two different cultures and he has a tremendous hatred for me."
According to Mr Nygard, it is that reasoning which has caused Mr Bacon to hire certain influential persons to tarnish his good reputation lending to a continuing bitter relationship between them both.
"He has been hiring people to criticise me and ruin my reputation (of) which I have a good reputation everywhere in the world.
"I wasn't so fortunate when Mr Bacon moved in. He decided to declare all war on me. A very silent war at first doing all kinds of sneaky things which I didn't talk about. I didn't bring it to the forefront. (The) only reason this is to the forefront now is because of Mr Bacon himself decided to attack me and the whole government and politicise the whole issue in here.
"It's been pretty difficult for me this year because I had to continue to defend my goodness and defend something that shouldn't even be defended."