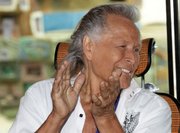 THE opposition Free National Movement has warned Peter Nygard that if he doesn't either prove or apologise for his claims that the former administration was corrupt, the party will take aggressive legal action against him.
Speaking in the House of Assembly yesterday, FNM deputy leader Loretta Butler-Turner drew attention to a video in which Mr Nygard is heard suggesting that the former government took bribes.
In the video, the Lyford Cay resident is shown confronting Rev CB Moss in Bain Town, and saying: "He's talking about the other government, he's talking about the previous government that my neighbour bought off to say exactly. . ."
According to a statement released by the FNM, "The plain and ordinary meaning of Mr Nygard's scandalous and utterly untrue assertion is that the entire FNM government 'the previous government', as represented by its Cabinet Ministers, had been 'bought off' or bribed by his 'neighbour.'
"The Free National Movement absolutely denies the outrageous and untrue allegation made by Peter Nygard, and calls upon him to justify such a heinous slur upon an entire government forthwith and, failing proof, to apologise, to withdraw and to repudiate his defamatory lie.
"Should he fail to do so immediately he will be confronted with definite and aggressive legal action."