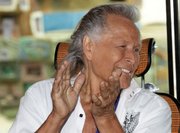 By KHRISNA VIRGIL
Tribune Staff Reporter
kvirgil@tribunemedia.net
AN AFFiDAVIT sworn by Lyford Cay resident Peter Nygard claims that he has been a major backer of Prime Minister Perry Christie and the Progressive Liberal Party.
The 23-page statement, dated while Mr Nygard was in the United states on April 2, 2012, and bearing his signature, has surfaced in the wake of Prime Minister Perry Christie's claim that he cannot reveal who donated money to his party.
Yesterday, during a press conference, leader of the Opposition Dr Hubert Minnis read a single line from the affidavit: "In addition, I am one of the major backers of opposition leader Perry Christie and his PLP party."
The document continues: "An election is expected to be held soon. Louis Bacon is a major financial donor to the present FNM government.
"I believe (Mr Nygard's neighbour Louis) Bacon wishes to discredit the PLP party by arranging false charges against me since I am a major PLP financial contributor who is associated by the public with the PLP.
"The facts and matters herein and either based on my personal knowledge and are true and correct based upon the sources that I have identified which are true and correct to the best of my information and belief."
The affidavit was sworn as part of evidence in a lawsuit which Mr Nygard filed against eight defendants, including his billionaire rival Mr Bacon.
He claims that Mr Bacon and others engaged in a criminal conspiracy to destroy his good reputation and business in a bid to deprive him of Nygard Cay.
According to the document, Mr Nygard alleges that Mr Bacon contacted a major Canadian broadcaster to plan a programme that was libellous to his character.
"There is overwhelming evidence that Bacon contact employees of the Canadian Broadcasting Corporation (CBC) who were planning a scandalous documentary about me for broadcast on a programme called the Fifth Estate - 'Larger than Life: He's rich. He's powerful. But, what kind of boss is he?' He promised to provide them with material for a story that would take me down.
"Over the last five years, a number of women who attended parties at Nygard Cay stated that they were contacted by individuals hired by Bacon. These women said that those Bacon representatives were trying to obtain falsified damaging testimony about criminal sexual misconduct on my part.
"They commented that when they had good things to say about me, they were offered $5,000 to $10,000 to lie and make up a juicy sex story involving me."