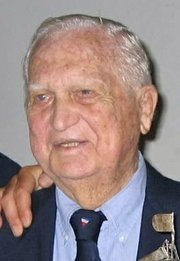 THE Commodore of the National Family Island Regatta, Danny Strachan, said on the occasion of the 60th anniversary of the regatta and the 40th anniversary of independence, the committee wishes to acknowledge the continuing contributions of a Bahamian sailing icon.
Commodore Strachan said Sir Durward Knowles has made generous financial contributions to the running of the regatta over six decades.
Mr Strachan said that over those years, Sir Durward, the Bahamas' first Olympic gold medallist, has donated millions of dollars – both to assist in the promotion of sporting activities and to help communities around the Bahamas.
"However, Sir Durward Knowles has been especially outstanding in his interest in and donations to the sport of sailing in the Bahamas, and his many contributions have gone not only to assist in the provision of prizes for sailing champions, but also in the encouragement of younger Bahamians to learn and to compete in this national sport," said Commodore Strachan.
Over the years, Sir Durward has financed the building of boats for regatta competitors, and once sponsored the construction of an E-class craft specifically for the training of young Bahamians who are expected to become future skippers.

The commodore said that while there are many persons and institutions, both local and international, whose generous financial contributions have kept the National Family Island Regatta and other regattas afloat, special thanks are due to Sir Durward, who has never hesitated to come forward and show his support.
The commodore expressed the belief that over time, Sir Durward has proven that he is the most generous and outstanding philanthropist in the Bahamas.
"While it may be true that Sir Durward, back in 1964, became the first Bahamian to capture an Olympic gold medal, that he has been an outstanding, world renowned sailing champion, and that he continues even at his advanced age to inspire and motivate thousands of Bahamians, to my mind Sir Durward's greatest and most attractive feature is that he is personally a man of integrity, and of caring," he said.
"In this year of the Bahamas' celebration of the 40th anniversary of independence, and when we in the National Family Island Regatta Committee have executed elaborate plans in celebration of celebrate 60 years of spectacular sloop racing, it is most fitting that in what is still the centre of these celebrations should be a beloved Bahamian patriarch as Sir Durward Knowles."