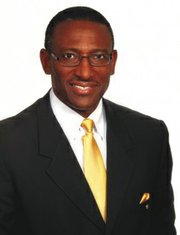 By KHRISNA VIRGIL
Tribune Staff Reporter
kvirgil@tribunemedia.net
AGRICULTURE Minister V Alfred Gray yesterday announced that officials have made progress in collecting outstanding rent from vendors.
According to Minister Gray, in June 2012, shortly after he took office, vendors collectively owed $587,000 in unpaid lease fees.
Now, he said, just over $300,000 is owed by those stationed at Arawak Cay, Potter's Cay and the Straw Market.
He was updating the media outside the Cabinet office on the recent closure of the majority of Potter's Cay stalls.
He stressed that the shut down at that location came for various reasons, including a lack of business licences and poorly kept stalls.
Mr Gray said: "I was advised that many of them had not met the requirements for re-licencing. It had nothing to do with them repaying their lease or anything like that.
"I think some of them kept their stalls in manners that were not acceptable to the licensing authority and of course they have a right to close those which are not up to standard because they are selling food to the general public.
"As soon as they comply with whatever the requirements are they would be allowed to open. If they were to meet the requirements sent by the agencies of the government we will certainly not stand in the way of them opening."
Over the weekend, Potter's Cay vendors were angered that authorities shut down more than 90 per cent of the stalls at the weekend hot-spot.
They complained that rude and aggressive police officers arrived at around 7pm last Friday demanding to see business licenses while thousands of visitors and locals were being served.
Vendors who were unable to produce a valid licence were shut down.