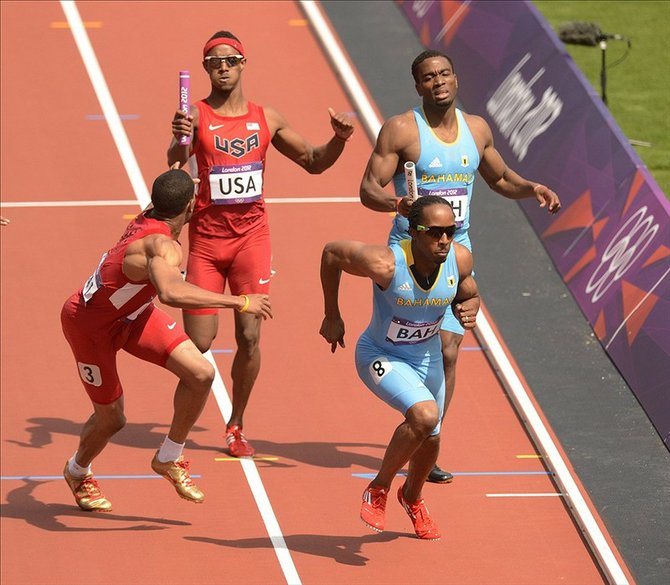 By BRENT STUBBS
Senior Sports Reporter
bstubbs@tribunemedia.net
After being sidetracked by the organisation of his initial Bahamas Invitational track and field meet in April, Chris "Fireman" Brown has slowly gotten back on track and now he is eager to make another appearance at the IAAF World Championships next month.
As the oldest member of the Bahamas' 23-member team that will be competing in Moscow, Russia, August 10-18, 34-year-old Brown is hoping he can finally pick up the global medal that has eluded him at the biggest biennial meet where he has famously finished in the fourth spot.
"Based upon the meet that I put on earlier in the year, I lost some speed work, but that is now behind me," Brown said. "I've made some adjustments to my training schedule and I've picked up where I left off.
"I feel good and I'm just blessed and ready that I hit the A standard and now I can go and represent the Bahamas. I want to have fun like I've always been doing and whatever happens happens. I look to get on the podium and so I just hope that I can stay healthy and my teammates in the relay can stay healthy so we can go and represent the Bahamas at this high level of competition because so many athletes won't have this opportunity."
In his quest to represent the Bahamas in his signature event again, Brown had to wait until he went to a meet in Paris, France, on July 6 where he ran 45.24 seconds to join his Olympic 4 x 400 gold medal teammates Ramon Miller (44.93) and Michael Mathieu (45.21) in attaining the A standard of 45.28 for Moscow.
Brown, who has also missed out on a number of golden opportunities to win an individual medal in his specialty at the Olympic Games, was due to be in town today for the presentation of the bronze medal to his Olympic teammates from the 2000 games in Sydney, Australia, after the Bahamas was elevated to third as a result of a doping violation by Antonio Pettigrew, a member of the United States team that was stripped of their gold medal.
But he has opted to stay in Atlanta, Georgia, to sharpen up on a couple of times in training before he makes the long trek to Russia next week.
"I put trust in God and I believe that he has a perfect timing and in his time, everything will work out. I don't believe that he will bring me this far to leave me alone," Brown said. "So I just want to continue to put my trust in Him because the results have shown that anything is possible.
"I will continue to stick by that because I'm just grateful for the opportunity to have qualified for another worlds and I look forward to representing the Bahamas to the best of my abilities in Russia."
In Russia, Brown is also expected to compete on the relay team that will try to duplicate last year's stunning upset for the gold over the United States at the London Olympics. In the final, Brown was asked to step up to run the lead off leg instead of anchor, which threw all of their opponents off stride.
Can Brown and the Bahamas do an encore at the worlds, despite the fact that Grand Bahamian Demetrius Pinder, who ran an exceptional second leg, will not be competing this year?
"We have a deep field. Everyone has to be open minded and do their part," Brown said. "We have some young guys coming up, but they just have to be healthy and know that if they are not 100 per cent they have to say something because we don't want to jeopardise or cause any mishap.
"We just have to be mindful that we are the best team coming out of the Olympics and so we just have to go out there and do what we have to do because we have a target on our back. Everybody is going to be gunning for us. We just have to be ready to go out there and do our best and take care of business."
In addition to Brown, Mathieu and Miller, the latter two who ran the third and anchor legs in London, the relay pool is expected to include Wesley Neymour, Ojay Ferguson, Latoy Williams and 400m hurdler Jeffery Gibson.
With this new lineup, where does Brown see himself in the picture as far as the lineup is concerned?
"Whatever it takes to put the Bahamas on top and come out with the victory, I am willing to do it," Brown said. "I'm not a selfish guy. I've had my years of running the anchor, third and second legs.
"I've moved around a lot back in the days. I prefer to anchor, but if it comes down to it again, whatever it takes to walk away with a medal, I am willing to do so. Whether it's running, first, second, third or anchor, I am willing to do it and put us in a position to win it."
As the elder statesman on the team, Brown is hoping that his mentality will rub off on his younger teammates.