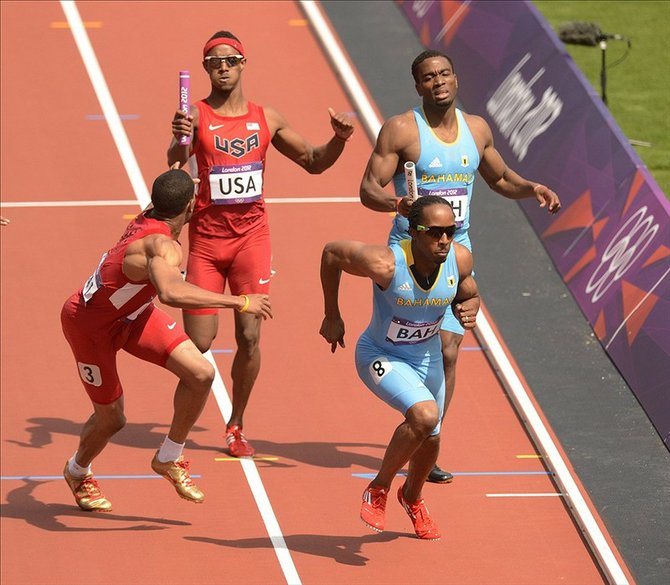 Tony McQuay (USA) and Michael Mathieu (BAH) hand off to Bryshon Nellum (USA) and Chris Brown (BAH) in the men's 4x400m heats during the London 2012 Olympic Games at Olympic Stadium. John David Mercer-USA TODAY Sports
Stories this photo appears in:

It's official. With just a week to go, the Bahamas Association of Athletic Associations (BAAA) has ratified an 11-member team that is considered "very strong, but not very big and should have some solid performances" when they represent the Bahamas at the IAAF World Indoor Championships in Sopot, Poland.

After being sidetracked by the organisation of his initial Bahamas Invitational track and field meet in April, Chris "Fireman" Brown has slowly gotten back on track and now he is eager to make another appearance at the IAAF World Championships next month.

WITH his part-time role as a promoter on the back burner, quarter-miler Chris "Fireman" Brown is now concentrating on turning up the heat again on the track as a full-time professional athlete on the IAAF Diamond League this weekend.

MARK the date down: Saturday, April 13. The event: the Chris Brown Bahamas Invitational. The venue: The new Thomas A Robinson Track and Field Stadium.

Team Bahamas men's 4 x 400m relay team put on an amazing performance this morning to land a place into tomorrow's Olympic final.