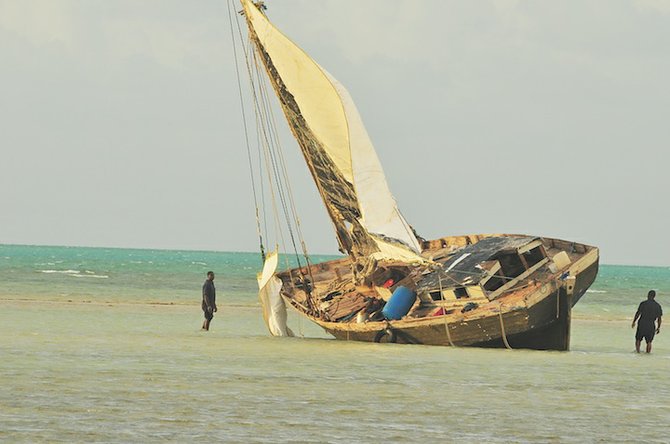 By AVA TURNQUEST
Tribune Staff Reporter
aturnquest@tribunemedia.net
DEFENCE Force and Immigration officers are searching for undocumented migrants from a Haitian sloop that ran aground west of South Beach ramp yesterday.
Officers apprehended 10 men and one women in the area of the vessel, according to Lt Origin Deleveaux, RBDF press officer, who said the alarm was sounded sometime around 4am.
Lt Deleveaux said: "We extended search and recovery efforts, assisting Immigration and the intention is to hit locations where we believe illegal migrants might be hiding.
"We are uncertain where the vessel came from and how many may have been on it. It could be anywhere from 100 to 20 (onboard).
"Those people when they become desperate, they load those vessels up so I'm not going to speculate."
In a press statement last night, officials reported the apprehension of an additional 15 migrants.
Earlier this month, Lt Deleveaux said more than 900 illegal immigrants have been arrested by the Royal Bahamas Defence Force so far this year – almost as many as the 12 months of 2012.
Of that figure, he said 850 of the immigrants were Haitian.
Last year, Mr Deleveaux said the RBDF apprehended a total of 1,330 Haitians, in 2011 the number was 2,300.