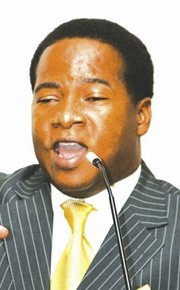 By NEIL HARTNELL
Tribune Business Editor
nhartnell@tribunemedia.net
A Bahamian financial services provider yesterday said it was positioning itself "at the cutting edge" through plans to open offices in Dubai and China within the next year, establishing "gateways" to the fastest-growing private wealth markets.
Paul Moss, head of Nassau-based Dominion Management Services, told Tribune Business the company was aiming to open its Dubai office by October 2013, with Shanghai to follow next year.
Building on the success of Dominion's three year-old Singapore office, Mr Moss said the company needed a presence in both the Middle East and China because "that's where it's at".
Calling on the Bahamian financial services industry as a whole to follow suit, he added that both regions were increasingly becoming the world's private wealth management centres, with the fastest growth rates in millionaire numbers.
And, backing the Government's plans to appoint an Honorary Consul in Singapore, Mr Moss said it was vital for the Bahamas to establish diplomatic relations with countries whose markets it was seeking to enter.
He suggested that the Bahamas Maritime Authority (BMA) establish an office in Singapore, as the latter's leap to become the sixth largest ship registry in the world indicated there was registration business to be done by this nation.
Describing the benefits from Dominion's international expansion, the company being one of the few Bahamian-owned providers to do so, Mr Moss told Tribune Business: "We feel good being in Singapore, there's no doubt.
"It's been able to attract every significant player from every major city in the world. We do a lot of private client work there, and are in the process of setting up an office in Dubai.
"We're going to have it open in October. We want to take part in what's going on there as well."
Explaining the rationale for opening Dominion's second international office, Mr Moss said the decision had been driven by the Middle East's fast-growing capital markets, and the migration of business to it from traditional private wealth management hubs such as Switzerland.
"Asia and the Middle East are the capital markets of the world, having a huge supply of capital, and we want to be where the new markets will be," Mr Moss said. "That's where it's at.
"If you look at what's going on in Switzerland, it's really changed a lot. Business that was in Switzerland has gone to Dubai and the Middle East.
"We've got to be on the cutting edge, and it's where the Bahamas has got to be. But we don't get it. Let's look at it. The Bahamas has only followed; they don't seem to want to lead."
Mr Moss added that Dominion's international expansion would not stop at Dubai.
He explained that the Singapore office had "opened new doors, new markets for us. We have gateways into China and the Middle East as a result of the office in Singapore.
"We're also doing an office in Shanghai next year. These are opportunities based on market promise, but also continue what we do here in Singapore.
"To have offices in these locations is tremendous for the Bahamas and us, because we believe we'll be positioned in these markets in years to come when others have caught up to it."
Mr Moss told Tribune Business that the Shanghai office would enable Dominion to seek business from China's "thousands of millionaires", who may have concerns about wealth preservation given the country's governance structure.
"That's the gateway," he added "We really have to do this. That's not only at the cutting edge, but we have to be forward thinking as to how the sector moves itself."
Apart from being 'first mover' into new territories for the Bahamas, Mr Moss suggested that this nation's continued strategic focus on its traditional markets was a mistake.
He described Africa, especially its east coast, as a "very sexy" market, along with India. The latter's population, and crop of young millionaires aged under 25 years-old, created ample opportunity for private wealth management and preservation providers.
Mr Moss added that Dominion's business in Singapore would likely grow as a result of the Government's thrust to appoint an Honorary Consul for the island nation.
"It is very important for the Government to have relationships, diplomatic ties to countries, because when you don't have it, you're not going to be very successful in getting the business," he told Tribune Business.
Pointing out that an Honorary Consul was merely the start of such a process, Mr Moss said it was "a difficult sell" for the Bahamas - or any Bahamian business - to break into a country where this nation had no diplomatic relations.
Potential clients, he added, often did no "understand where the Bahamas is" geographically.
"That's a problem," he said, "because we've not done the job on the industry side to promote it, and advance diplomatic relations to put the Bahamas on the map.
"Financial Services and Foreign Affairs go in tandem, they work hand-in-hand. Financial Services should be a trailblazer.
"It's most difficult going cold turkey into a country where we don't have relationships. That's something we have to do better."