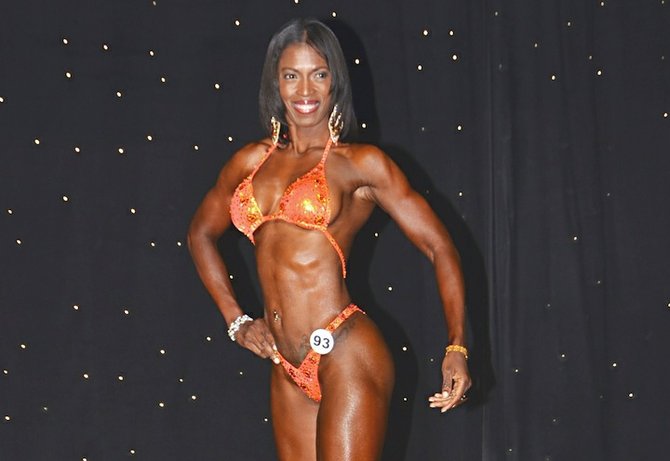 By BRENT STUBBS
Senior Sports Reporter
bstubbs@tribunemedia.net
TWO months since moving to Orlando, Florida to pursue her dream of earning a professional card as a fitness competitor, Dawnita Fry clinched her first international victory at the 35th annual NPC Southern USA Bodybuilding in Panama City Beach, Florida.
The event at the Gulf World Marine Park, which featured a number of competitors in bodybuilding, men and women physique, fitness, figure and bikini open as well as masters and novice divisions, saw Fry emerge as the winner of the Figure Masters category.
"I was in disbelief because this is the US. It's not like in the Bahamas. Here, you have a lot of athletes and everybody is into this hard," Fry said. "To win, it was just a good feeling. I didn't win overall, but I won in my class. The closest I came before was in Canada when I came fourth. So this is my first win. It kind of validates my decision to come here and train.
"A lot of people say that certain age in life, you don't change careers, but I said 'why not?' Life is about chances and I was going to switch. I'm really getting into fitness. I'm a certified fitness trainer now and I'm working on my nutrition certification, so this is my first win and I'm still reveling in my success."
Unfortunately for Fry, her celebrations were cut short after her coach, IFBB coach Gennifer Strobo, instructed her not to indulge into heavy champagne drinking or eating any big meal because she had to get right back into the Gold's Gym to resume her training on Monday morning.
"I just had my chicken and green beans," Fry said.
Fry, a former teacher at Xavier's Catholic School, said since relocating to Orlando, she's been able to take advantage of the cardio training equipment and she can access all of the food she needs to stay fit and healthy.
"It's still the same focus and everything, but it's just a different platform all together," said Fry, a member of the Team Bombshell. "I have access to a lot of stuff and because we don't card to compete, we keep our card in our diet and I was able to do all of that. It's a lot easier. But once you have the focus, you can be successful wherever you are."
As for the competition, Fry said it was one of the best organised events that she ever competed in.
"It ran very fast, every efficient, it was in and out," Fry said. "It was stiff competition. All of the girls were tough. We didn't have anybody who was lagging. Everybody always comes to win or to get that top spot. I know everybody says it's not about the trophy but everybody wants to validate the fact that they worked hard.
"I don't think that there was anybody who didn't work hard. At the end of day, it was what the judges were looking for that made the difference. It was still competition. People were coming to me after the pre-judging and telling me that I had a chance to win. But when I looked at the other girls, I was like 'gee, they all look so good.'
"I was thinking that maybe I wasn't good enough to win. With my height, you never know. I'm 5-feet, 11 and the other girls in my class are like 5-7, so that's a big difference. I'm a tall girl. So when they called me out for the top five, I was quite pleased. But when they called me in the top three, I was shocked. Then when they called me as the winner, I didn't know what to do."
Although she's moved to Florida, Fry said she's not giving up her birthright just yet. She intends to return home to compete at the Bahamas Bodybuilding and Fitness Federation's 40th annual National Championships on Saturday, July 13 at the National Center for the Performing Arts and hopefully secure her spot on the national tam that will travel to the Dominican Republic in September for the Central American and Caribbean Championships.
"I prefer to represent the Bahamas, but once I turn pro, I can compete on the circuit without any problems over here," Fry said. "So I can get a lot more opportunities that I'm not afforded now as an amateur. I have a lot of offers now, but as an amateur, I can't take any money. So I don't want to do anything to jeopardise my pro status."
Having packed on about eight pounds since she moved to Orlando, Fry said she still needs to be increase her weight by about four to solidify her chances of earning her pro status, which she intends to pursue once she qualifies for the team that will head to the CAC championships.
"I still miss home, but the good thing about home is that you can always come back," Fry said. "I just had to think about my goals and what I wanted me for me and my kids to achieve. My son is into football and the scouts are looking at him right now. So I really want to push him to get him to where he wants to be because the whole sacrifice for me moving here was for all of us."
The mother of three said her oldest child, Christopher, is now enrolled at Lake Nona High School where he is expected to excel in both basketball and football. The 18-year-old 6-5, 265 pounder formerly played basketball under coach Trevor Grant with the CR Walker Knights.
"He's going into his last year in high school. He's getting ready to go into their summer training so that they can get him primed and ready," Fry said. "Coach Grant put him through the drill. That's why the coaches here have been so impressed. Coach Grant may row a lot, but he gets the job done. They have been impressed with his discipline. I told them it's all coach Grant."