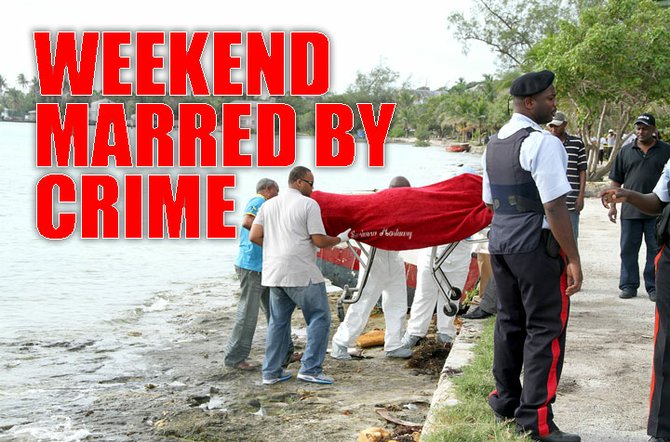 By DANA SMITH
Tribune Staff Reporter
dsmith@tribunemedia.net
POLICE are investigating the discovery of three bodies – one of which was an infant found at the public dump on Saturday, as well as the death of a Fox Hill man who was shot by police on Friday night.
As yet another weekend was marred by crime, crime fears reached a fever pitch with false messages claiming multiple deaths being circulated on social media.
Although there are no official reports that give credibility to the accusations, the messages were being shared by cell phone and internet, warning Bahamians to stay off the street, sources say.
The rumours, which spread rapidly on Facebook, spoke of several persons dying in an alleged gang initiation and that police had reportedly warned Bahamians to stay home.
Police have denied sending out such a warning and have reported no such incidents.
Police did confirm that a 21-year-old man of Fox Dale Subdivision was shot dead by police on Friday evening.
The incident occurred shortly after 6pm in the Fox Hill area and a handgun belonging to the deceased was confiscated, according to police reports.
Sources say the 21-year-old, armed with a handgun, allegedly discharged his weapon in the direction of the officers and was then shot by police.
A body was found at Wulff Road, west of Jerome Avenue, with multiple stab wounds, in the early hours of Sunday morning.
The unidentified man was discovered around 1am and police say they are uncertain of the circumstances surrounding the incident.
Another body was discovered in waters off Montagu Beach, east of the Nassau Sailing Club, with multiple stab wounds to the upper body.
Police say the body – a woman with dreadlocks – was discovered around 7:20am on Friday. At the present time, police are uncertain of the circumstances surrounding this incident.
The following day, the skeletal remains of an infant were found at the public dump.
An employee made the discovery while working at the site, shortly after 11am.
Sources say the body belonged to an infant female. The worker had been pushing off a pile of rubbish when he spotted a white plastic bag, which he thought looked suspicious.
When the bag was opened, it was found to contain what appeared to be the body of an infant in an advanced state of decomposition, sources say.
It is thought the child was just a few days old.
Police are investigating the discovery of all the bodies and are appealing to members of the public who may have any information that can assist, to contact them.
Police are also investigating a shooting incident that left a 19-year-old man in serious but stable condition in hospital.
Around 4:40am on Saturday, the victim was at Cambridge Lane off Baillou Hill Road when the incident occurred, which resulted in multiple gunshot injuries. He was taken to hospital by EMS.
Three men were taken into police custody on Friday in connection with an armed robbery of a conch vendor at Zion Boulevard, east of Baillou Hill Road.
Around 2:40pm on Friday, the vendor was approached by four men inside a blue hatchback car. Two of the men, one of whom was allegedly armed with a handgun, got out of the car and robbed the victim of jewellery and cash.
Police arrested the men and confiscated a firearm after their car crashed in the area of Resurrection Drive.
Police are also reporting that operation "Blitz and Firestorm" resulted in 19 arrests and 95 drivers in New Providence being cited for various infractions.
The operation was conducted on Saturday and saw persons arrested for questioning in reference to armed robbery, housebreaking, dangerous drugs, and on outstanding warrants.
An unofficial report of a robbery of a Wulff Road business was also reported to The Tribune. Employees of a local business were reportedly robbed of cash by a gunman who escaped on a motorcycle. Police said they had no reports of such an incident but would look into the matter.