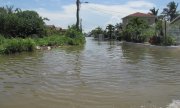 By NEIL HARTNELL
Tribune Business Editor
nhartnell@tribunemedia.net
A Bahamian insurer believes its net loss from last month's flooding in New Providence will equal 30 per cent of its projected 2013 profits, and be greater than that incurred from Hurricane Sandy.
Tom Duff, general manager of Insurance Company of the Bahamas (ICB), told Tribune Business that the property and casualty underwriter had received 151 flood-related claims and was making provision for around $4 million in gross losses.
ICB, the carrier through which BISX-listed J. S. Johnson places much of its general insurance business, is far from alone. Current estimates are placing total insured losses from the May 22 storms, which within hours dumped up to 15 inches of rain on parts of eastern and southern New Providence, at between $12-$15 million.
"We have a total of 151 claims reported," Mr Duff said, "which is broken down into 67 motor claims, with the balance being primarily homeowners and a few commercial properties.
"In terms of the cost of the claims, most of the property losses are still in reserve. We've reserved that at roughly around $3 million.
"We've reserved that very conservatively. We think that as the adjusters go out and adjust the losses, that amount will come down."
Meanwhile, the payouts and claims cheques are already flowing when it comes to motor vehicles. "On the motor side, we've paid out just over $600,000 in claims, and have reserved $255,00 for a total of $847,000," Mr Duff told Tribune Business.
"On the marine side, we've just one single hull loss for $305,000 gross. Overall, on a gross basis, we're looking at around $4 million at the high end. That will probably drop a little bit."
Acknowledging that the storm and subsequent flooding had taken both policyholders and insurers by surprise, Mr Duff said ICB's own losses would be minimised by the "substantial reinsurance" coverage it had purchased.
"I'd expect our losses, on a net basis, to be no more than $725,000 after reinsurance costs," he added. "That might be at the top of the high end.
"The net loss for us will be about 30 per cent of the budgeted net profit for the year. It is also going to be a little more expensive than Hurricane Sandy by the look of it."
The May 22 storm spared no Bahamas-based property and casualty insurer. Anton Saunders, RoyalStar Assurance's managing director, pegged the size of his firm's gross claims at between $1.8-$2.25 million.
"When I was in Montreal, I spoke to the loss adjuster who was dealing with 60-70 per cent of the claims for the insurance industry," he told Tribune Business.
"He's pegged the loss at between $12-$15 million for the insurance industry, and we're probably 15 per cent of that, no buts, ifs or maybes."
Timothy Ingraham, Summit Insurance Company's president, told Tribune Business: "At the moment we're looking at around 80-90 claims for about $2 million.
"It's right around what we expected, given the risks we had in the areas where we had flooding, and given the level of flooding some people suffered.
"It shows that hurricanes are not the only things we are susceptible to, and we need to be aware of things like flooding, prepare accordingly and pay attention to it."
Terence Rolllins, Security & General's general manager, told Tribune Business that the underwriter had received around 50 flood-related claims and was looking at a total gross payout of around $700,000.
"There might be a couple of stragglers, but at the moment we have just over 50 reports come in, divided roughly evenly between property and motor," he said.
"The total cost, we think, will be around $700,000. The expense will probably be $400,000 for us and $300,000 for reinsurers. The storm was pretty freakish and certainly unexpected."
With hurricane season having now begun, Mr Rollins added: "We don't want too many of those storms as they put a big dent in your bottom line, so we'll hope for the best."
Add in Bahamas First's roughly 200 claims, and estimated $3 million in gross losses, and the estimates quoted by Mr Saunders seem spot on. Collectively, the five Bahamian general insurance underwriters are placing total gross insured losses at $12 million, with total claims likely to come in at over 500.