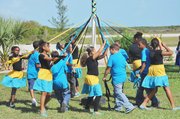 ON the second leg of its national tour, the 40th Anniversary Independence Flag landed in Deadman's Cay, Long Island, carried by the Air Wing of the Royal Bahamas Defence Force to an enthusiastic crowd ranging from toddlers to senior citizens.

Wearing their national colours, Long Islanders beamed with pride as the flag was hoisted on the grounds of Deadman's Cay airport yesterday morning.
Long Islanders were especially thrilled to learn that the flag hoisted there was the same flag that replaced the Union flag on July 10, 1973, at Clifford Park.
Many clamoured for a photo with the flag to become a part of Bahamian history.

Chester Fox, Deputy Councillor and Sharon Cartwright, South Town Chairperson, thanked the government as they brought brief remarks and the crowd on hand were entertained by the Mangrove Bush Primary School May Pole Dancers.

The flag continues its journey this week: Today, Acklins - Spring Point; Crooked Island - Colonel Hill. Tomorrow: Eleuthera - North Eleuthera Airport; Harbour Island; Spanish Wells. Friday: Eleuthera – Governor's Harbour; Eleuthera - Rock Sound. Monday: Exuma -Moss Town.
Events scheduled for the next few days to mark the 40th Anniversary of Independence:
12th – 14th June: The Bahamas at 40 'Reflecting on the past, Envisioning the Future,' College of The Bahamas Special Forum
12th June: Command Performance (Government House)
13th – 14th June: Cultural Heritage Festival (Eleuthera)
14th June: Mount Tabor Full Gospel Church Honouring 40 fathers, Sheraton, Cable Beach, 7pm.
14th - 16th June: North Andros Crab Fest, Fresh Creek, Andros
Saturday, 15th June: 'A Celebration of Bahamian Composers,' JoAnn Callender In Concert, Christ Church Cathedral, 8pm.