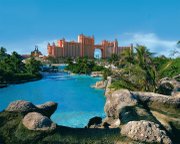 By NEIL HARTNELL
Tribune Business Editor
nhartnell@tribunemedia.net
One of Atlantis's retail 'pioneers' yesterday said he was aiming to establish a second store at the Royal Towers within three years, the recent expansion of his inaugural outlet having sparked a 20 per cent sales increase.
Pat Paul, proprietor of AMICI European Boutique, told Tribune Business that he had no plans to expand his high-end menswear/ladieswear store anywhere else but Atlantis.
Disclosing that the move to merge his initial two stores into one was already reaping financial rewards, the Eleuthera native said he was anticipating a further 15-20 per cent sales increase from the growing number of Latin American visitors to the Bahamas.
"We had the two smaller stores, and took this big store and put them in here," Mr Paul told Tribune Business of his newly-expanded Coral Towers location.
"That took place two months ago, and we've seen a 20 per cent increase in sales."
The single 1,000 square foot store, standing opposite Solomon's Mines, is larger than the combined 850 square feet than his two previous outlets covered.
Merging them into one, Mr Paul added, has allowed him to display all his brands and wares in one single location where "we have more visibility, we have more windows".
And, with one eye to the future and gradual, controlled growth when the business is there to support it, Mr Paul told Tribune Business his only expansion plans were "here at Atlantis".
"Eventually we want to have more space," he explained. "We want to go to the Royal Towers area, I would say, in about three years."
Yet a retail spot at Baha Mar's $2.6 billion Cable Beach expansion is firmly ruled out, while Mr Paul said he had yet to "feel" the need to 'set up shop' at other high-end New Providence shopping destinations, such as the Old Fort Bay Town Centre.
"I built my home here [Atlantis], and am going to continue here until the end," Mr Paul replied, when asked whether he was assessing retail opportunities at Baha Mar.
As for other potential New Providence locations for his high-end fashion boutique, he added: "I'll have to feel it. I don't have that feel yet, and I need to have that feel."
Explaining why he had remained a one-store business despite his success, Mr Paul told Tribune Business: "I don't believe in being an absentee landlord. We do it well here, and have more control at the edge.
"I've watched a lot of people over the years trying to make it in so many different areas, and they lose control. They lose control of quality, lose control of the business.
"You cannot be on one horse and ride in two different directions. You can only ride in one direction at one time."
And, with two Spanish-speaking staff among his four AMICI staff, Mr Paul's business is perfectly positioned to capitalise on the Bahamas' increasing Latin American tourist business that is being facilitated by Copa Airlines.
"We now have a big Latin American pool," he told Tribune Business. "We're drawing on Copa, and that [sales increase] could be 15-20 per cent.
"Latin Americans spend, they understand fashion a lot, and understand it quickly."
Atlantis's ability to attract the world's showbusiness and sporting celebrities, plus top business and financial figures, meant the resort was a major high-roller draw that benefited its retail tenants.
"I look at this as the Wall Street of the Bahamas," Mr Paul told Tribune Business, "You don't get more powerful than this place in terms of advertising."
He credited the resort's mid-1990s development by Kerzner International, and Sir Sol Kerzner, with placing the Bahamas on the map. Recalling a trip to Milan in the late 1960s, Mr Paul said the Bahamas and its currency did not then feature on a display of the world's countries, but post-Atlantis it was included in the same montage.
"We try to be the best in service," Mr Paul told Tribune Business. "Service is 60 per cent of your business.
"You always need great inventory and presentation in-store, but without proper service, care for the customer and knowledge of the brand, it's not going to happen. You'll be building a museum of clothing, because you'll never sell the stuff."