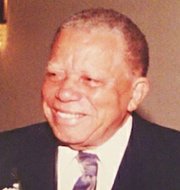 CONTINUING our series on the 40 men selected by Mount Tabor Full Gospel Church, honouring 'Fabulous Forty' fathers for the independence anniversary, today's profile is on William McCartney.
William Alfred McCartney Sr was the first born to the late Alfred Arnold McCartney and Addie Del (nee Allen) McCartney in February of 1926 in the picturesque settlement of Tarpum Bay, Eleuthera.
He was affectionately called 'Al'. At age six, the family relocated to New Providence in the area of Fort Fincastle, then to McCartney Lane off Wulff Road.
As a child, Al fondly remembers collecting workers from his grandfather, William Butcher Allen's farm in his grandfather's truck. As the age of fourteen, upon completion of the Western Senior School, Al moved to Cat Cay with his uncle Eris Allen.
Al eventually returned to New Providence where he was employed with the American Army Post Engineers in the maintenance department, keeping the electrical generators, pumps and other machinery in order.
At the age of eighteen, Al channelled his dreams and aspirations and launched his first business, a mechanic and body repair shop located through McCartney Lane, near his home.
Al relocated his business to Mt Royal Avenue in 1950 and initiated the first of many expansions. He established a partnership with his father and his brother C Arnold McCartney. This business was called McCartney (AAA) Triple "A" Automotive, where they sold new and used car parts and rebuilt automotive parts and accessories. In the latter 50s, McCartney Auto Repairs was established for body and fender repairs and refinishes.
The 1980s brought new investment experiences with the establishment of Wilcha Limited and the construction of a 38-apartment complex in the Cable Beach area. During this time, Al also partnered with a son and nephew to develop the subdivision called Bahamia West. Commonwealth Fashion Centre Ltd (Commonwealth Fabrics) was also established.
A devout Christian, Al has attended East Street Gospel Chapel for decades and has served as elder, Sunday school teacher, choir director, preacher and counsellor. Many church projects have been established with Al's participation and leadership - Blue Hill Gospel Chapel, Believer's Gospel Chapel and the Christian Life Centre on John F Kennedy Drive.
Al was married to Eliza Eileen McCarntey (nee Culmer) for 60 years until her passing in 2011 and they are the proud parents of five very accomplished children; William (Billy), Dr Barrett, Lennox and Keith McCartney and Tamara (Tammy) McCartney-Cargill.